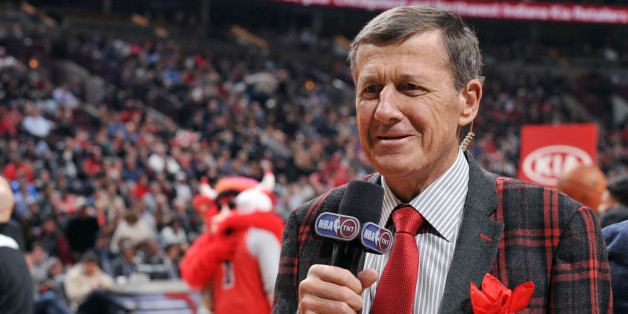 Well-loved TNT sideline reporter Craig Sager received a warm welcome for his return Thursday night after an 11-month absence during which he fought cancer.
"It was a long 11-months," Sager, notably slimmer, said on TNT ahead of the Chicago Bulls 108-105 victory over the Oklahoma City Thunder.
"I'm very grateful for my health and the fact that I am back," he said. "I feel great."
The popular sideline reporter had been diagnosed with leukemia last year and received a bone marrow and cell transplant from his son, Craig Sager Jr. It was announced last month that he would return March 5.
Sager received a standing ovation from the crowd as the Bulls played a video tribute in the United center and presented him with signature jacket in Bulls' red and black.
By the end of the first quarter, Sager was back in familiar ground, interviewing Thunder head coach Scott Brooks.
Many fans held up signs showing their support for the reporter and ahead of the game, TNT's "Inside the NBA" played a short clip featuring Russell Westbrook, Gregg Popovich, Dwyane Wade, Mark Cuban welcoming Sager back, and many more shared congratulations on Twitter and Instagram.
Man can't wait to see Craig Sager tonight on @NBAonTNT. Missed you man! #WelcomeBackSager

— Paul Millsap (@Paulmillsap4) March 6, 2015
— Ricky Rubio (@rickyrubio9) March 5, 2015
Just looks right with Craig Sager back on the sidelines..

— Jamal Crawford (@JCrossover) March 6, 2015
It was great to see Craig Sager back on the court tonight! Awesome print on the jacket too! 👍

— Chris Bosh (@chrisbosh) March 6, 2015
Following the game, Sager said he had some jitters about his return.
"You're a little nervous. I've done it before but everything's a little different," he said, according to ESPN.