This is a great Internet story: When an unnamed man was shamed for dancing in public, a tribe of body-positive women launched a Twitter search to throw him the ultimate dance party in California.
They found him -- and he said yes.
It all started when an anonymous person posted a surreptitious shot at the man, with photos attached, on the message board 4Chan.
"Spotted this specimen trying to dance the other week," the poster wrote. "He stopped when he saw us laughing."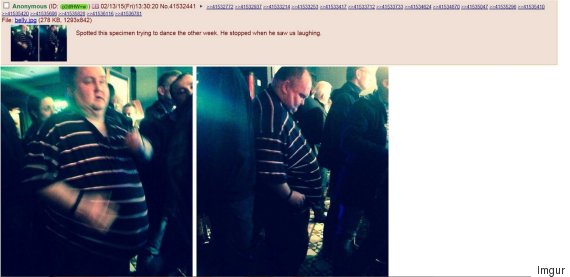 A screenshot of the post, labeled "Why I Hate Children," was uploaded to Imgur by the user FrozenBadger. "I find this behavior f****ing despicable," FrozenBadger wrote. "If you're out there big man, f**k those kids. Keep dancing."
Most Imgur commenters shared FrozenBadger's sentiments, sending messages of support to the anonymous dancing man like "Don't ever let them dull your sparkle big boy!" and "I wish we could find him and tell him he's awesome."
One writer decided to do just that. Cassandra Fairbanks, who goes by the name Cassandra Rules, launched a Twitter campaign to #FindDancingMan.
"I decided to tweet it and our offer in the hopes if he did see it, he would see something positive instead of a bunch of people upset," she told Buzzfeed.
Anyone know this man or who posted this? There's a huge group of ladies in LA who would like to do something special pic.twitter.com/DGbu3AXOrB

— Cassandra (@CassandraRules) March 5, 2015
She issued an invitation he couldn't refuse.
To #DancingMan.. @xorachelflies @TziporahMetler @HOPELEIGHMUSIC @isthisrita @lysee_love @FeliciaaBro @stephaniefilo pic.twitter.com/xYfpnPAM08

— Cassandra (@CassandraRules) March 6, 2015
Soon enough, another Twitter user posted a photo of the Dancing Man posing with a dinosaur mascot in London, tagging the image with #findDancingMan so Fairbanks could see it. "Can you pass him our invitation?" she asked. The connection was made!
#FindDancingMan spotted in London with latest dancing partner pic.twitter.com/TmjhNZ8Rk2

— Max Taucer (@MaxTaucer) March 6, 2015
Dancing Man confirmed his identity with a photo, creating a brand new Twitter account called @Dancingmanfound to accept the dance party invitation. He wrote that he's "Not a tweeter normally!"
YAY TWITTER!!! @Dancingmanfound #FindDancingMan ❤️❤️❤️

We are going to dance!!! pic.twitter.com/G7FxuiSsIh

— Cassandra (@CassandraRules) March 6, 2015
@CassandraRules @MaxTaucer #finddancingman
Cassandra just seen invite and would love to join you in LA for a dance off!!

— Dancing Man (@Dancingmanfound) March 6, 2015
Dancing Man, identified so far only as a Londoner named Sean, said he will be in Kiev for the next two weeks, but he plans to get down in Los Angeles shortly after. And it shouldn't cost him a dime - a GoFundMe page raised $4,629 in just two hours to pay for his trip, and donations are still coming in.
I spoke to him, he's free in a couple weeks, he's currently in Kiev, but we are planning the best party ever :) @FelicityMorse

— Cassandra (@CassandraRules) March 6, 2015
In the meantime, he's apparently started working out in preparation for his groove marathon with the body-positive ladies of Los Angeles.
@CassandraRules @MaxTaucer
Dancing Man in training pic.twitter.com/4jAy1TuswO

— Dancing Man (@Dancingmanfound) March 6, 2015
"Gossip Girl's" Ed Westwick tweeted his support.
Keep on dancing @Dancingmanfound !! http://t.co/HoKl3nXXvT #FindDancingMan

— Ed Westwick (@EdWestwick) March 6, 2015
Oh, and Pharrell might come too.
Hey @CassandraRules keep me posted about your dance party! @Dancingmanfound, never be ashamed of yourself. You are both truly #OTHER🙏

— Pharrell Williams (@Pharrell) March 6, 2015
"Thanks for the interest and the tweet," Dancing Man told Pharrell. "Today is a day I have never imagined would happen."
We can't wait for the party.
Visit HuffPostWomen's profile on Pinterest.
BEFORE YOU GO
PHOTO GALLERY
10 Celebrities With A Positive Body Image