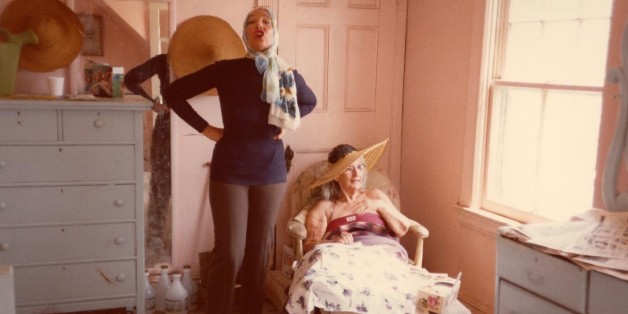 We've encountered that time of the year when Oscar fare has been replaced by the tripe that floods multiplexes every February and March. If you're fortunate, your local theater might have a screening of "Birdman" you can catch, assuming you haven't already seen this year's Best Picture winner. If not, you're left with the sci-fi claptrap "Chappie," disappointing sequels ("The Second Best Exotic Marigold Hotel" and "Hot Tub Time Machine 2"), a reminder that Will Smith isn't the movie star he once was and, of course, "Fifty Shades of Grey." If you're truly lucky, though, you live in one of the 18 cities that will screen the restored version of "Grey Gardens" over the course of the next few months. See that instead. The death of co-director Albert Maysles on Thursday night lends the movie additional relevance.
The classic documentary is a hallmark from an era without reality television, and it's even more fascinating and poignant than it was in 1975. Watching Big and Little Edie Beale, the aunt and cousin of Jacqueline Kennedy Onassis, traipse around the dilapidated mansion they maintain in an otherwise dashing corner of East Hampton, New York, is like seeing self-exiled recluses emerge for public grazing. That prescient approach is what makes the movie so jarring, even today. Any accusations of exploitation are softened by the intimacy that exists between the filmmakers and their high-society castaway subjects, who somehow seem to understand what they've bargained for by inviting brothers Albert and David Maysles into their home. The directing duo mostly remain silent off-camera as the Beales open up about their cloistered lifestyle with almost no prompting, as if their onetime longing for fame taught them to perform without a script.
The crisp restoration, a joint effort between the Criterion Collection and the Academy of Motion Picture Arts and Sciences, has more to say about contemporary culture than anything else on your nearest theater marquee right now. A modern audience unfamiliar with the "Grey Gardens" legacy -- the movie stemmed from a media frenzy that enthralled the nation, resulting in a famous 1972 New York magazine cover story -- may overlook the movie's stronghold on popular culture. But this pull-back-the-curtain portrait is as seminal as it is compelling, arguably pioneering (along with the 1973 TV series "An American Family") fly-on-the-wall documentary filmmaking and, later, reality television.
On Thursday, hours before Maysles' death, Vanity Fair published a 2001 phone call between the filmmaker and Little Edie. Occurring years after Big Edie and David Maysles died, Little Edie had long abandoned the raccoon-infested home where she lived as a sort of captive of her mother. She took up brief residence in New York City before moving to Miami Beach, Montreal, Oakland and Bal Harbour, Florida. The call, recorded a year before her death, finds Edie assessing the Bush-Gore election results and professing her love for Maysles, all in that uncanny posh cadence. For someone who displays her soul unabashedly yet remains an elusive figure in American history, the call feels just as revealing as the 94-minute film that captures her so intimately. Read the New York magazine feature, catch "Grey Gardens" in theaters (or on home video, where it was also released), then listen to the aforementioned phone call. You'll have the Beales on your brain for days.
The restored "Grey Gardens" opens March 6 in New York. It will expand to additional cities in the coming weeks.
BEFORE YOU GO
PHOTO GALLERY
Celebrity News & Photos