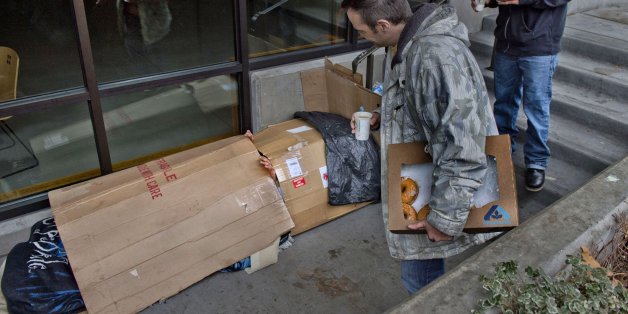 Seattle missed its deadline to end chronic homelessness. But considering that the city is brimming with socially conscious people –- which includes the world's richest man -– it would seem likely that this Pacific Northwest metropolis would have been able to meet its goal.
Except it didn't.
When Seattle introduced its "Ten-Year Plan to End Homelessness", it committed to executing a solution by 2014. Together with eight organizations, coalitions and local governments, the road map declared that it would stop relying on quick fixes to address the issue, and instead would develop prevention strategies and put an "affordable and appropriate" roof over the head of every person and family in King County, Washington, who needed one.
But as it falls short on its vow a decade later, experts are pushing the Emerald City to take a cue from Salt Lake City and New Orleans, which are making effective strides to ending homelessness.
Those cities employ the "Housing First" method, which advocates for giving people in need shelter and then addressing their health, addiction and employment issues.
While Seattle has used that approach to a certain degree, it's still falling behind.
In 2005, there were more than 8,000 people experiencing homelessness in Seattle. On a single night in January last year, there were 9,294 homeless people, which included people on the streets, in transitional housing and shelters, according to Seattle/King County Coalition on Homelessness.
"There isn't any doubt we've got a big and growing problem on our hands," Bill Hobson, director of the Downtown Emergency Services Center, told the Seattle Times. It's the city's largest homelessness nonprofit and Hobson has been at his post for nearly three decades.
While ending homelessness in any major city is undoubtedly complex, locals had high hopes, especially considering the fervor behind the mission.
Seattle is an affluent city and liberal voters and politicians are open to spending money on social issues, KUOW noted. King County is also home to the largest United Way and the Bill and Melinda Gates Foundation, which has supported the cause.
So, if it has such overwhelming support, what went wrong?
To be sure, Seattle has made some progress on the homelessness front.
Over the past decade, more than 30,000 people have "left homelessness" and more than 5,000 new housing units have been built for people who were once homeless, according to the Coalition.
But the city has also faced a slew of challenges it didn't see coming.
While some experts point to common issues of broken mental health systems and racial disparities, others say the holdups are actually somewhat unique to Seattle, according to KUOW.
The city has seen an influx of people entering the homelessness cycle that it didn't anticipate. Others attribute it to a lack of affordable housing.
Seattle was the fastest-growing U.S. city last year, KUOW reported, making it a destination for members of all economic classes –- which drives up housing prices and delays housing projects, the news outlet reported.
One potential solution to Seattle's affordable housing shortage might be found in the city's micro-housing boom.
The city approved 780 such units and another 1,598 are in the pipeline, according to the Seattle Times.
Jesse Yem, a psychology major at Seattle University, for example, pays $1,000 for a 200-square-foot space. The costs include utilities and Wi-Fi.
In the interim, Seattle officials have been pushing building tent cities -– which would be run by social-services agencies -- so that they can buy time to figure out a more permanent solution, Al Jazeera reported.
While some homeless people see the suggestion as discriminatory, officials say it's the best compromise at the moment to minimize "neighborhood opposition," City Councilmember Sally J. Clark told Al Jazeera.
Some say the most stable solution, though, is the one that already has a proven track record.
Since 2005, Salt Lake City has reduced its chronic homelessness population by 72 percent, just by giving out homes.
Giving housing to a homeless person cost Salt Lake City about $12,000, Lloyd Pendleton, director of Utah's Homeless Task Force, told "The Daily Show" in January. Leaving a person on the street racks up a $20,000 bill, Pendleton said.
While Seattle has advocated for this approach, it hasn't quite expanded it in the way it potentially could, according to Hobson.
"We've never taken it to scale," Hobson told the Seattle Times. "We haven't tried it on a magnitude needed to match the size of this city's problem."
CLARIFICATION: This story has been updated to reflect that Salt Lake City reduced its chronic homeless population –- not its homeless population -- by 72 percent since 2005.
To take action on pressing hunger issues, check out the Global Citizen's widget below.