Kristen Stewart climbs into bed for a photo shoot with Karl Lagerfeld for CR Fashion Book #6, and reveals what she finds irresistible. (Hint: It's not vampires.)

"For me, the most attractive thing in a person is drive -– genuine impulse expressed for the sake of it, not for perception," she tells CR Fashion Book. "It's a compulsion, and I share that. It's indescribable. It's just a burn. You can sense it pretty instantly, this innate curiosity, because not everyone has it. That's what I'm fucking attracted to."
Continued Stewart: "If you meet someone who fuels you, or say you're in a room and someone walks in and they got that vibration, people want it. The vibrating person is always the most attractive."
The 24-year-old actress, who is set to appear in "Anesthesia" and "Equals" this year, doesn't seem to mind what people think about her, as she's pretty confident in who she is and what she's all about.
"I do not approach my life tactfully at all," Stewart admits. "I'm incredibly impulsive and I am definitely an intense weirdo. I love living and I love people. They trip me out and I want to know more about them all the time. That isn't something I can turn off and on."
As for her life in the spotlight, the "Twilight" star believes confidence is key to creating magic onscreen.
"You definitely have to be somewhat of a self-involved person to create anything," she explains. "Most creative people are pretty aware they are a little self-obsessed, but in order to fucking have faith in yourself and make confident work, you have to be a little crazy and believe in yourself enough to just do it."
For more with Stewart, pick up Issue 6 of CR Fashion Book on newsstands worldwide.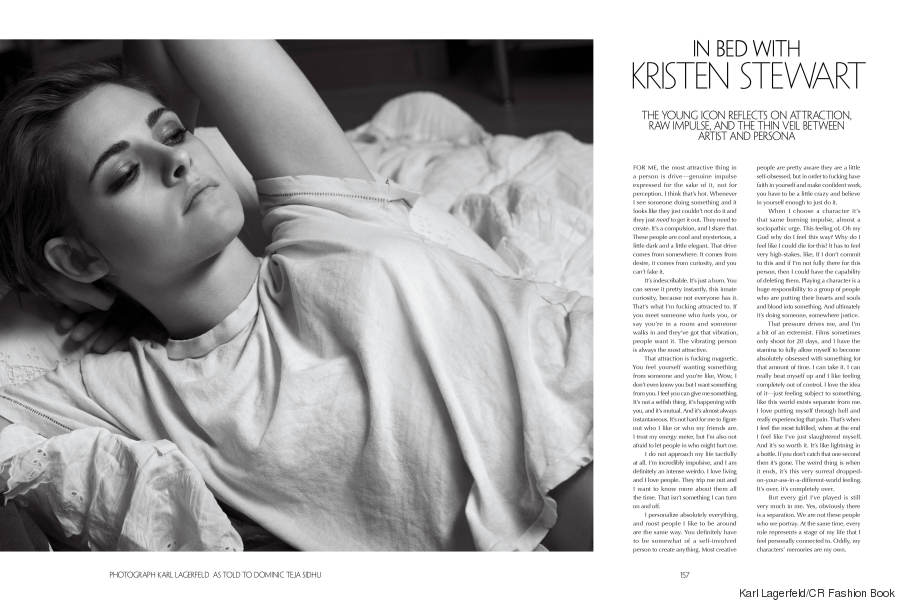 BEFORE YOU GO
PHOTO GALLERY
Kristen Stewart's Most Glamorous Looks