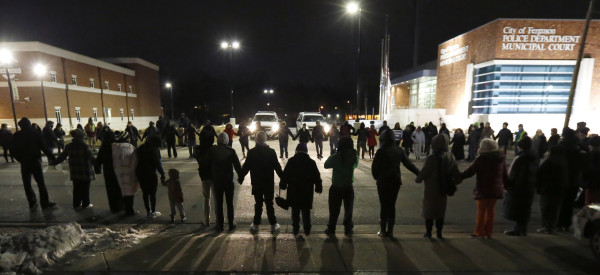 TOP STORIES
To get The Morning Email, HuffPost's daily roundup of the news, in your inbox, sign up here.
DOJ REPORT DOESN'T END WITH FERGUSON "It was billed as an investigation of the Ferguson Police Department. But a hard-hitting report released Wednesday by the U.S. Department of Justice also reads as an indictment of cities and towns across the St. Louis region. The report implicates at least four other municipalities in alleged misconduct or questionable behavior. And as the Justice Department itself acknowledged, many of the conditions described in the report could have been written about any number of the 90 municipalities in St. Louis County." [Ryan Reilly and Matt Sledge, HuffPost]

ANALYZING JOHN ROBERTS' SINGLE OBAMACARE QUESTION "Three years ago, a gruff-sounding Chief Justice John G. Roberts Jr. asked a question during the marathon hearings on the constitutionality of the Affordable Care Act about whether the mandate that individuals buy health insurance was really more like a tax on those who do not. It got a little bit lost in the blizzard of words that accompanied the hearings, but turned out to be the foundation of Roberts's opinion saving Obamacare. Now, in the analysis of Wednesday's King v. Burwell hearing, Roberts might be overlooked again." [WaPo]
STATE DEPARTMENT INVESTIGATING WHETHER CLINTON VIOLATED SECURITY POLICIES As the State Department investigates whether Hillary Clinton violated security protocol by using a personal email server, current Secretary of State John Kerry all but dismissed the issue. [WaPo]
MEET THE MAN WHO ATTACKED THE U.S. AMBASSADOR TO SOUTH KOREA Kim Ki-jong, an activist in South Korea, had previously been detained for throwing a concrete block at a Japanese envoy in 2010. [Doohon Kim, HuffPost]
APPEALS COURT PUTS SAME-SEX MARRIAGE ON HOLD IN NEBRASKA Same-sex couples were set to marry on Monday before the U.S. appeals court intervened. [Reuters]
MALAYSIAN FLIGHT 370: ONE YEAR LATER As the search for missing Malaysian Flight 370 continues, family members open up about the lack of answers. Theories of what could have happened to the plane, which vanished over the Indian Ocean March 8 last year, continue to pour in. [NYT]
HOW MUCH WORKER'S COMP YOU'D GET FOR YOUR LIMBS, BY STATE Turns out your arm is worth more in Nevada than it is in Maryland. [ProPublica]
WHAT'S BREWING
SUICIDE RATES OF GIRLS AND WOMEN CONTINUE TO RISE "The suicide rate for girls and young women in the U.S. continues to rise, at a pace far faster than for young males, health officials said Thursday. The rate for boys and young men increased since 2007, too. And it remains three times higher than the female rate for ages 10 to 24 … From 2007-2013, the rate for young females went from 2.2 to 3.4 per 100,000." [AP]
THE TOP PITCHING PROSPECT OF THE TORONTO BLUE JAYS IS LIVING IN HIS VAN Outside of the local WalMart. [ESPN]
HARRISON FORD IS 'OK' FOLLOWING PLANE CRASH According to his son. [HuffPost]
SO ABOUT KIM KARDASHIAN'S PLATINUM BLONDE HAIR Even The New York Times covered it. [HuffPost]
KATE MIDDLETON IS HEADED TO THE 'DOWNTON ABBEY' SET In the most perfect clashing of all our British fantasies. [Vanity Fair]
SAY GOODBYE TO THE ELEPHANT ACTS AT THE RINGLING CIRCUS Citing animal welfare concerns, the Ringling Brothers plan to eliminate the popular act by 2018. [HuffPost]
FORGET THE TRAVEL AGENT And take advantage of these Google flight tricks. [HuffPost]
WHAT'S WORKING
TREAT YOUR WORKERS WELL, HELP YOUR BOTTOM LINE "Fortune magazine just released its annual list of the 100 best companies to work for, a listicle orgy of companies that offer jobs with amazing pay, perks, benefits -- and shareholder returns. The magazine noted that, since 1998, the companies on the list have outperformed the S&P 500 stock index by a ratio of almost two to one, according to data from the Russell Investment Group." [HuffPost]
ON THE BLOG
SEN. PATRICK LEAHY: THE EVER-PRESENT CRIME OF HUMAN TRAFFICKING "It is hard to think of a more despicable crime than the buying and selling of other human beings, especially children. Yet we know that it is happening right here in America, every day. Each year, thousands of children are bought and sold for sex. That should keep all of us awake at night." [HuffPost]
BEFORE YOU GO
~ Jared Leto went platinum blonde as well.
~ Neil Patrick Harris is probably going to pass on hosting the Oscars again.
~ The movies Matthew Weiner made his "Mad Men" cast watch.
~ You can tip your Uber driver.
~ The most absurd political clips this week.
~ "Toy Story 4" is going in a different direction.
~ Meet the churro dog, the latest way to clog all of your arteries.
~ All of the snow day soup recipes.
~ Netflix has bought the brainchild of indie darlings Brit Marling and Zal Batmanglij.
~ Jodi Arias will spend life in prison for the murder of her ex-boyfriend.
~ Welcome to the St. Louis Browns Historical Society.
~ And the trailer for the adaptation of Gillian Flynn's "Dark Places" looks even darker than last fall's "Gone Girl."
Send tips/quips/quotes/stories/photos/events/scoops to Lauren Weber at lauren.weber@huffingtonpost.com. Follow us on Twitter @LaurenWeberHP. And like what you're reading? Sign up here to get The Morning Email delivered to you.