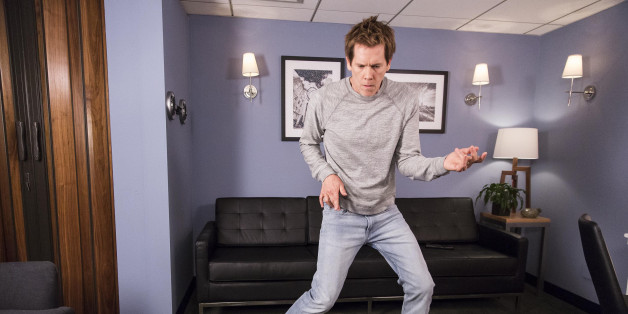 Kevin Bacon is already busy solving crimes on Fox's "The Following" and using Google's Bacon Number to figure out how he's connected to people, but now he's adding a new project to the resume. The actor has teamed up with the American Egg Board for a new web video due out later this month (because no one knows eggs better than Bacon).
Recently, the actor opened up about the new campaign, "The Following" and even named a Six Degrees successor:

Image: Giphy
What's the most unlikely Six Degrees of Kevin Bacon match you've seen?
The strangest one was somebody connected me to John Wilkes Booth in six degrees or less. And what's interesting about that is that when John Wilkes Booth was an actor, there were no films, but someone that he acted with, who would I guess be quite a bit younger than him, was in some stage production grew up and became old enough to be in ... silent films, and then it kind of went on from there to the talkies, and I was connected to him in six degrees. So, you know, a dubious distinction.
So you're aware you can look up someone's "Bacon Number" on Google?
I actually use that. I'll tell you why I use that is because on "The Following" we have people come in, actors come in, and you know ... a lot of people die on our show, and so we have a pretty heavy turnover of new characters coming in, and I don't like to walk onto the set or into the makeup trailer and say nice to meet you if it's somebody that I've already worked with.
If you decided to leave the spotlight, who would be your Six Degrees replacement?
Truth is, I'm not even the most. I'm like way down there. They've done lists of being connected. I'm like the 2,000th most connected or something like that. Um, lets see ... I don't know. Honey Boo Boo.

Image: Giphy

You say it's going to be a new chapter on "The Following" this year. How so?
It's a very character driven season. It's extremely like creepy and disturbing. We're rolled back on the actual seeing of the violence a little bit I think, but we haven't rolled back on the surprises and the inherent stakes of the show you know it's a dark world that you go into .
Why the cutback on the violence?
I think that violence sort of lands better if you have an emotional connection to whoever the violence is sort of being perpetrated against or whoever is doing it, so I think that you can scare people and flip them out with just as much with their imaginations ... It's still a pretty dark show
Yeah, I have to watch it during the day.
Yeah, a lot of people do. I think that's something that I mean, honestly, you can see that in the way the show is consumed that a lot of people DVR it. And we were one of the first shows to kind of embrace that. I remember that the very first ad campaign for Fox said, "Set your DVR now."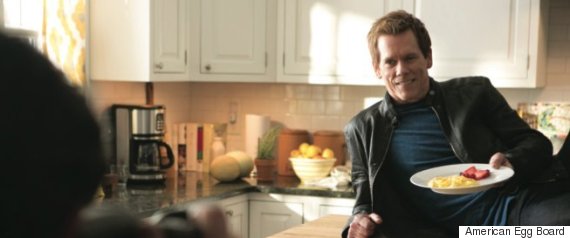 Bacon is a great breakfast side. What's a side of Kevin Bacon people don't know?
I do like to cook. I don't know if I'm good. My wife thinks I'm good, not everybody else, but, yeah. No, I like to cook. I like sitting at home kind of things, you know?
If you're the Bacon in BLT, what's the LT?
Love for sure. And Tequila.
What made you interested in doing this new campaign?
I've done a few campaigns throughout the career. I think it's always best to do them with a sense of humor ... In this case, I've spent a lifetime of hearing people make jokes about my last name. I mean from the time I was a tiny little boy, it was, "Oh, Bacon, eggs and bacon, eggs and bacon, eggs and bacon." I've been hearing that since I was, my earliest memories, so I'm always one to kind of embrace the beast as it were.

Image: Giphy

Sounds eggscelent.
Look for Kevin Bacon's "Wake up to Eggs with Bacon" web video Tuesday, March 17.

BEFORE YOU GO
PHOTO GALLERY
Celebs Caught On Camera