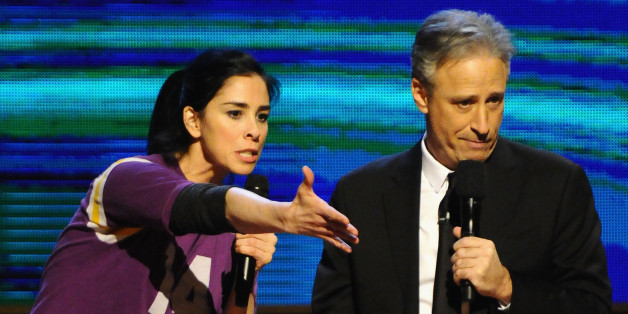 What do some of America's biggest comedians think about Jon Stewart leaving "The Daily Show"? When Stewart hosted the taping of Comedy Central's fifth "Night Of Too Many Stars" recently, comics opened up about his decision to leave his longtime post and spend more time with his family. The biennial event benefits autism.
Some comedians on the red carpet for the event's taping Feb. 28 disagreed on just how many stars is "too many" -- "Weird Al" landed on a firm "85" while Sarah Silverman settled on a more conservative "no more than three" -- but everyone said replacing Stewart will be a difficult task. They also had some very different suggestions for what he should do in his upcoming free time.
Find out what stars like Amy Schumer, Jim Gaffigan and Gilbert Gottfried had to say about Stewart's decision below and watch the "Night Of Too Many Stars" broadcast and live telethon at 8 p.m. Sunday on Comedy Central.
Visit NYC4A to donate to autism programs or text "STARS" to 50555 to donate $10. Comedy Central has details on donating here.
PHOTO GALLERY
'Night Of Too Many Stars' On Jon Stewart
BEFORE YOU GO
PHOTO GALLERY
'Night Of Too Many Stars' 2015