Your favorite all-women, Hasidic Jewish rock band from Brooklyn needs your help.
Throughout the last few years, Bulletproof Stockings have captured headlines, playing packed, women-only shows at some of New York's marquee rock venues, including Arlene's Grocery, Bar Matchless, and the Bitter End.
And while the two founding members of the band, Dalia Shusterman and Perl Wolf, have enjoyed the spotlight, they say it's time for the next challenge: recording their first full-length album.
Shusterman and Wolf launched a Kickstarter page last week on the first day of Purim, a Jewish holiday, asking fans to help them raise $36,000.
"We ran the numbers, and that's the amount of money we need to make the album," the duo explained on the Kickstarter page, pointing to the costs of renting studio space, hiring a producer and an engineer, among other expenses. But they also chose $36,000 for a more spiritual reason.
"In Judaism, the number 18 is the numerical value of the word "chai" which means 'life,'" they wrote. "Because of this, many Jews give charity in multiples of 18. 36 is two times 18 - double life!"
In a video on the page, Shusterman explains that while their music and lyrics "are definitely based in the Torah, Hasidic concepts -- even some of the imagery is related to stories within the Torah," the "overall theme is a universal message of just life, triumph and struggle and questioning and getting back on your feet."
The pair formed Bulletproof Stockings -- named for the tights traditionally worn by observant Hasidic Jewish women -- during a tumultuous time in both of their lives. Wolfe was going through a divorce, and Shusterman's husband, with whom she had four children, suddenly died.
"It was the fruition of two paths coming together," Shusterman told The Huffington Post in August.
In addition to singing, Shusterman plays the drums and Wolfe plays the keyboard. They've since added a cellist and a violinist.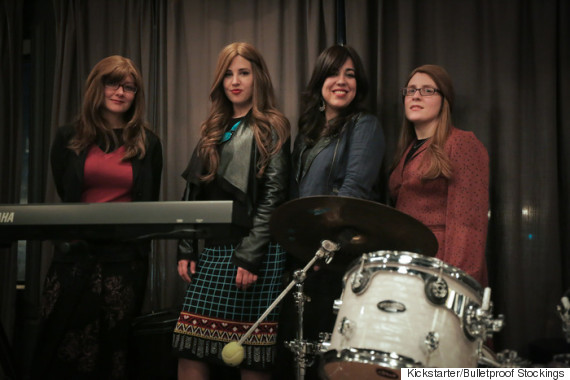 While the album would obviously be available to both men and women, Bulletproof Stockings says they'll likely continue to play live for women-only crowds.
"The theological short of it is this: Jewish men have a mitzvah (commandment) not to hear the singing voice of women outside their immediate families; however, it's up to the men to choose to abide by that commandment or not. As women, we can sing and play wherever we want," they explain on the Kickstarter page. "Though we have many male fans, our mission at these concerts is to create a unique space for ALL WOMEN - regardless of religious affiliation, lack thereof, astrological sign or shoe size ;) - to relax, rock out freely, and let out the inner dork/diva/wallflower in full bravado! These live shows are for women...but the music is for everyone."
As of Monday afternoon, the band has raised $5,359 of its $36,000 goal. The fundraiser ends on April 4.
Those who donate $15 will get a digital download of the album when it's released. Those who donate over $500 get a "personal tour of Crown Heights" -- the Brooklyn neighborhood where Shusterman and Wolf live -- "followed by lunch at a Kosher restaurant of your choice," among some other rewards.
H/T DNAinfo