"Unbreakable Kimmy Schmidt" is easily Netflix's most watchable show. The Tina Fey and Robert Carlock-created comedy starring Ellie Kemper as a freed cult member debuted on Friday with "30 Rock"-style jokes, a theme song you can't get out of your head and a dozen breakout roles. It's goofy, quotable and tender, and goes by in under six hours.
It's Kemper's first leading role and within the first episode, she's a clear natural anchor for a comedy full of absurdities. The supporting cast -- "30 Rock" vet Jane Krakowski as Kimmy's boss, Jacqueline Voorhees; Tituss Burgess as her roommate, Titus Andromedon; Carol Kane as her landlord; Dylan Gelula as Jacqueline's daughter, Xanthippe; and Sara Chase and Lauren Adams as former mole women -- is just that: Kimmy's support as she navigates New York. We see wonder at the modern world through Kimmy's eyes, and horror at her lack of life skills through theirs.
Aside from the recurring cast, which keeps "Unbreakable" from teetering too far into the insane, the show has an impressive roster of celebrity cameos to inject surreal moments into Kimmy's everyday life. Martin Short is barely recognizable as Jacqueline's siliconed-up plastic surgeon, Kiernan Shipka is Kimmy's angsty half-sister, Kymmi, and Jon Hamm is the charming apocalypse-fearing reverend. These are the best celebrity cameos in "Unbreakable Kimmy Schmidt":
Matt Lauer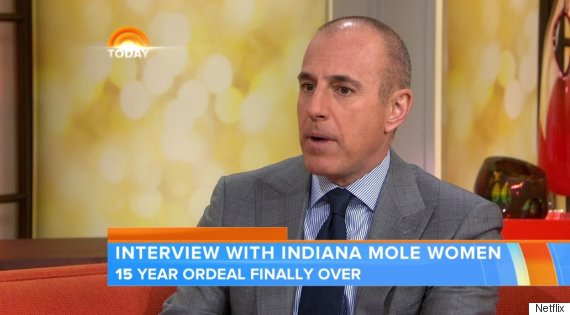 Matt Lauer and the "Today Show" nab the Indiana Mole Women's first post-bunker interview. They call him Bryant.
Horatio Sanz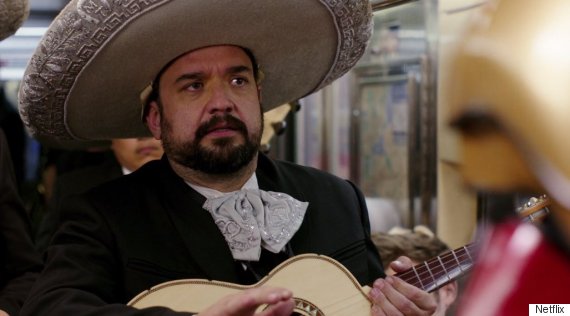 Sanz plays Hector, who's part of a subway-playing mariachi band. He and Titus team up to destroy the costume store that's cheating them out of their security deposits.
Martin Short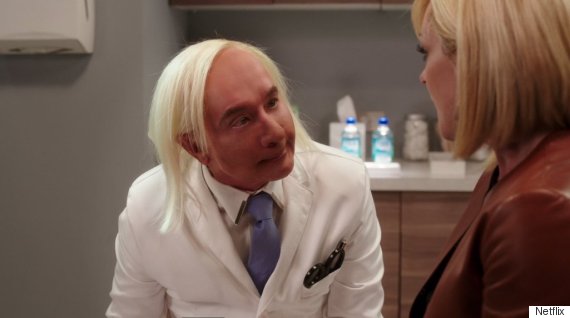 Yes, that really is Martin Short under all that silicone. As Dr. Franff, Jacqueline's plastic surgeon, he gets this great line when asking to choose which "foot lift" procedure he would recommend: "It's like asking me which one of my children's placentas was the most delicious."
Richard Kind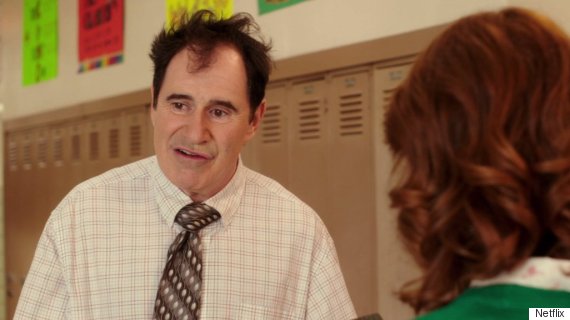 P.S. 0 has an awful GED class, taught by Mr. Lefkowitz (Kind), who hates teaching, students and Kimmy. He loves movies and teachers lounges.
Amy Sedaris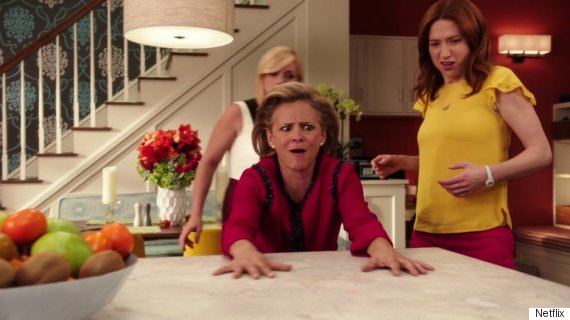 Sedaris plays Mimi Kanasis, a divorced friend of Jacqueline's, who Kimmy calls to help Jacqueline through her own divorce. Turns out Mimi's a mess, has a lonely therapy dog named "Boyfriend" and just came to the Voorhees' townhouse with the intention to murder. Her biggest post-divorce qualm: "Do you know what the difference between a million and a billion is?!"
Kiernan Shipka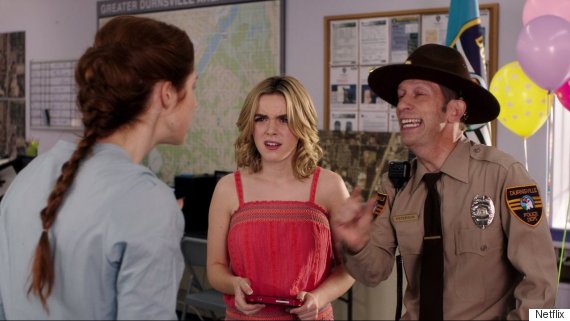 Meet Kymmi, Kimmy's half-sister. Kimmy's mom married the detective assigned to Kimmy's disappearance, Randy. He didn't find her, but had Kymmi and left Durnsville. Kymmi hates Kimmy and just wants to go to Olive Garden with her friends.
Dean Norris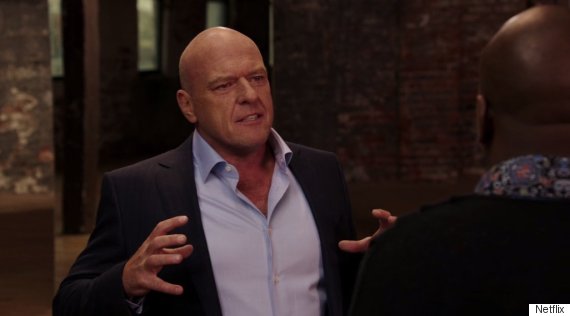 His name is Le Loup and he fake trains Titus on how to be straight, so he can nail his "audition for 'Entourage 2.'" Spoiler: There is no "Entourage 2."
Jon Hamm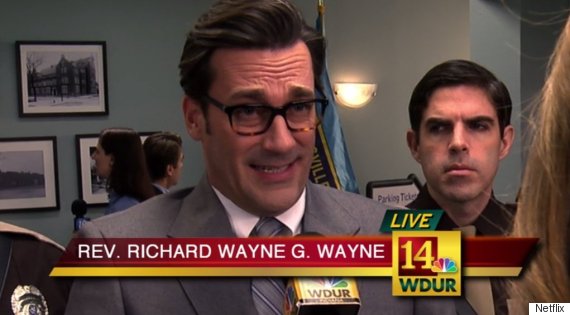 Well, look who it is. Hamm shows up -- without hook hands -- to play Rev. Richard Wayne G. Wayne, the charismatic cult leader who brainwashed the Indiana Mole Women. He charms everyone, including the prosecutor, who we'll get to in just a second.
Tina Fey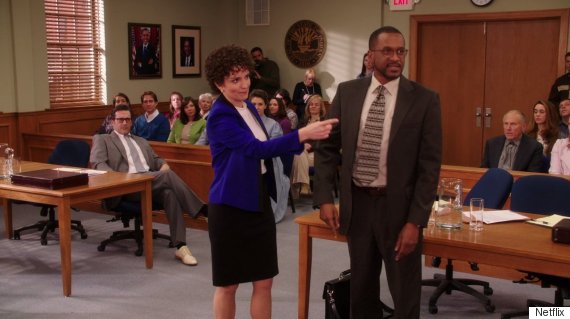 Yup. Show co-creator and all-around favorite woman on the planet, Tina Fey, plays Marcia, one of the lawyers representing the mole women. She's garbage with a perm. We love it.
Nick Kroll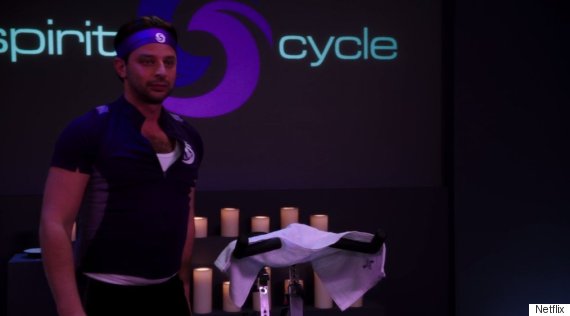 Kroll plays Jacqueline's spin instructor, Tristafé, who becomes Kimmy's stand-in patriarchal cult leader ... until she reveals to his class that he's just a pimply guy named Christopher sitting on a toilet. "IBS is real!"
CORRECTION: A previous version of this article misidentified Amy Sedaris' character as Mr. Voorhees' first wife. That role is played by Christine Ebersole.
BEFORE YOU GO
PHOTO GALLERY
Celebrity Cameos In Music Videos