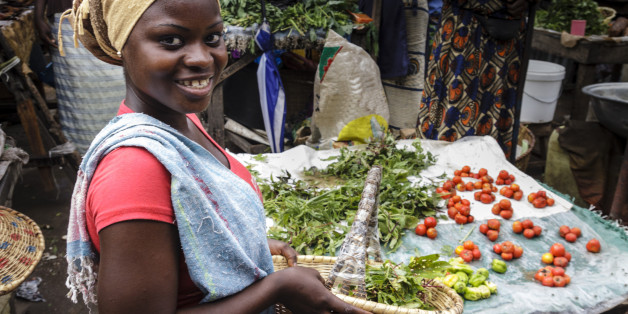 Emilie Faye is no stranger to flooding. The walls in her home are discolored from rainwater and past floods in her community, a suburb of Dakar, Senegal, have driven water levels up to the seat of her couch, she told Reuters.
But the Senegalese woman is now using the results of devastating natural disasters to build her entrepreneurial skills.
Faye has taken a leading role in the "Live With Water" project -- an initiative that grows crops from trapped excess water when the region floods -- as Reuters reported. According to Faye, she and her daughter make about $22 a month from selling crops grown in the basins, like basil and mint.
She said that money goes toward school fees and medical supplies.

"Before, one had to accept that houses here flood," Faye told Reuters. "But this project opened our eyes to see there is a solution."
Her city, Pikine, has benefited from a water system produced by architecture company Mandu. The firm helped implement a surface drainage system that empties and filtrates floodwaters, creating a reservoir and green space in the middle of town.
Senegal, which has dry and wet seasons, has been heavily impacted by climate change. Margareta Wahlstrom, United Nations' special representative of the secretary-general for disaster risk reduction, visited the country last year after devastating floods became public emergencies in the region. Some communities in Senegal, she said, had experienced serious flooding ten months of the year.
"There is a huge pressure for action," she said, according to Phys.Org. "I think particularly the flooding issue is so critical ... because it's very acute."
According to the U.N.'s Office for the Coordination of Humanitarian Affairs, floods have become a devastating and all-too-common occurrence in Senegal. Every year, somewhere between 100,000 and 300,000 people are impacted by excessive rain water, and poor urban planning in the developing country only makes the problem worse.
As Reuters reported, Pikine residents are happy that the new water system has meant less devastating floods and more economic opportunities for their city. But they're hesitant to celebrate too soon.
"Many projects come and go and nothing changes," Mariama Diallo, who has helped Faye with the "Live With Water" project, told the outlet. She did note, however, she's hopeful the water system will grow to other communities outside Pikine.
To take action on pressing water issues, check out the Global Citizen's widget below.
BEFORE YOU GO
PHOTO GALLERY
Obama In Senegal