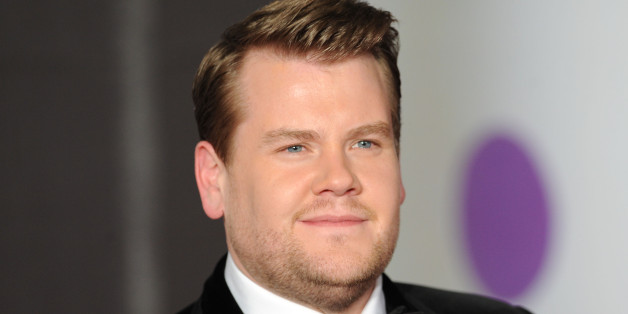 Last fall, CBS announced that Tony Award-winner James Corden would take over "The Late Late Show," replacing Craig Ferguson. Corden is best known for his roles in "Into the Woods," "Begin Again" and for his award-winning performance in the play "One Man, Two Guvnors," which was a West End and Broadway hit.
But that's not the typical CV for a late night American talk show host. CBS Entertainment chairwoman Nina Tassler told The New York Times, "The identity and the quality of the host informs the kind of show you're going to do. Once we knew that James was our guy, the format was going to be developed and derived from who James is."
That sounds like a whole lot of pressure. But his lack of experience in the hosting world, mixed with his anonymity within American culture, might just prove to be a blessing.
"There's a freedom to it," he said in an interview with The Huffington Post. "You really have an opportunity to come with no baggage and speak to people and say this is us, this is our show, and we would love for you to spend the last hour of your day here. We are going to try our best to make you smile."
But it's a double-edged sword, he continued. "The bad side is how do you get them there to hear that message? We can only do so much to get people to tune in. From what I can see, the television habits of people in America is all about the lead-in."
Fortunately, Corden has two of those, at least during this first year. His "Late Late Show" starts on March 23, two months before David Letterman steps away from "The Late Show"; come fall, Corden will directly follow Stephen Colbert's new show on CBS. Corden recently said that he wants his show to be like "Stephen Colbert's younger brother with ADHD," but told us that they don't even know what Colbert's show will be like just yet.
"I don't know if Stephen knows yet. I think it's our job to make it feel like two hours of television," he said. "So Stephen is going to make his show and we'll mold ours after we see what that is. I think we have to give people a reason to stick with us. But I'm talking like I have a clue -- I have no idea what I'm talking about!"
Corden is horribly likable. He is warm and welcoming. He takes off his sneakers before curling up on his sofa for our interview. He wears jeans and a T-shirt. He has two other pairs of shoes lined up side by side at the foot of his desk -- a pair of sneakers and a pair of shiny, formal black dress shoes. His laugh is like hitting the jackpot, every time. In some ways, he feels like a younger, cheerier Ricky Gervais.
His office is bare and looks like he just got there. A Tom Ford gift bag rests on top of a dresser, next to a lit candle and a fancy box of Dom Pérignon champagne. In fact, there are so many candles lit in the office that it has started to smell like a working log cabin.
"I am going to do something with this room," he said emphatically. But right now it's crunch time to get the show up and running this month. Even sleep has taken a back seat. "There's been no time for naps," Corden said.
Next door (just a brisk walk past the CBS helipad), the set to his future is being built. Dozens upon dozens of crew members hammer, saw, shift lights and tweak the Hollywood Hills backdrop that Corden will sit in front of each night. His request for a working bar has been granted and already put in place.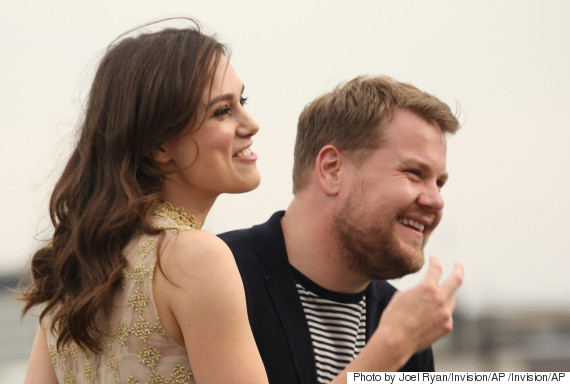 Corden joins the late-night scene during a crucial time of change. Letterman and Jon Stewart are stepping down, Colbert is embarking upon a new era as "himself," Jimmy Fallon and Seth Meyers are rolling in ratings and fellow Brit, John Oliver -- whom Corden calls "fiercely bright" -- is making every executive at HBO practically giddy.
But aside from a joke about his weight from Letterman, it appears that the days of late-night feuds are over. Corden says Meyers was the first person to congratulate him on his new job and that they email regularly about their favorite soccer team.
"He is the nicest man on the planet," Corden said. "I don't even know if that's our competition really. I think our competition is people falling asleep." The show airs at 12:35 a.m. (a time so late that Corden's own father practically went into shock when he heard the news) and Corden knows that it will be an uphill battle.
"I'm here in Los Angeles now and I have lived in New York before, and you can feel when you're in these places that this is 'America.' But I'm aware that it isn't. How do I reach the kid or the couple or the grandparents in Ohio or Nebraska? How do I talk to them?" he asked.
"The truth is, that's just going to take time. The nature of these shows is that they are bred on familiarity. You're checking in with someone you know and like," Corden said. "Which is why, almost always, when people launch these shows, they do not get good reviews."
When asked if he's prepared for that, Corden said, "100 percent. How do you review it? It's like cooking a steak for 30 seconds and then eating it and saying, 'Uh, this isn't ready.' This is going to evolve."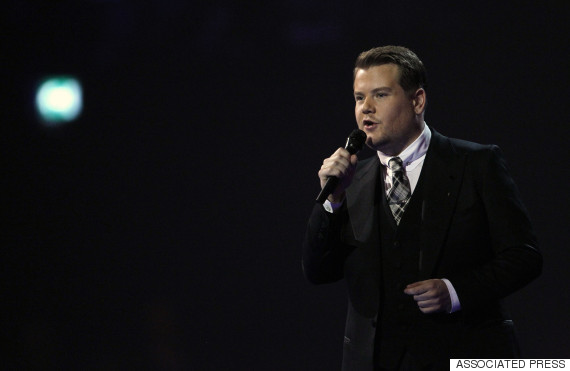 Corden believes they could spend a full year prepping for the show, but will inevitably learn more in their first two weeks of doing it. He is shockingly calm and open minded. In Variety's cover story, he alluded to good nerves versus bad nerves and just hoping that the good nerves show up.
And it's not like he's never performed before. He's just never hosted. During the run of "One Man, Two Guvnors," he remembers feeling like the whole play sat on his shoulders. "I got into some crazy superstitions. Oh my god, it was too much," he said.
"I had to put my socks on in a certain order. I couldn't start getting dressed until the band started playing. I had to wait until a particular moment to walk out of the room and then do a special little dance. My wife would just be like, 'What are you doing?'"
He asked a sports psychologist about it at a party and was told that his behavior was all about eliminating doubt. It's quite common with professional athletes, too. "Because however much you do it, it's always alien," Corden said. "It's an alien thing to say I'm going to try and run this 100 meters faster than these guys. This is not normal."
In many ways, Corden must feel like a bit of an alien being dropped into Hollywood. During the morning our interview took place, his gigantic billboard was raised over CBS studios at rush hour. He stood on a crane with a bullhorn shouting down at pedestrians, "Hi. I am James Corden."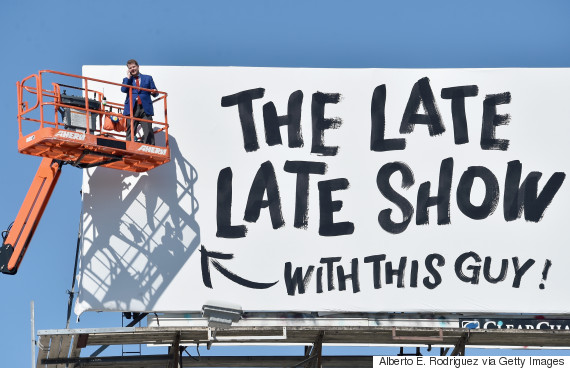 He moved to Los Angeles with his wife and two young children only two months ago. "I'm enjoying it very much," he said, playing with his wedding band on his finger. "It's funny -- I feel like I can see how life could be. But that's so reliant on this working out!"
Expect a fierce first week of the show. They have confirmed guests Tom Hanks, Kerry Washington, Will Ferrell and Kevin Hart. "I'm not afraid of any of them," he said. "I never feel afraid. Should I be afraid? I don't feel like I should."
"The Late Late Show with James Corden" premieres March 23 on CBS.
BEFORE YOU GO
PHOTO GALLERY
Celebrity News & Photos