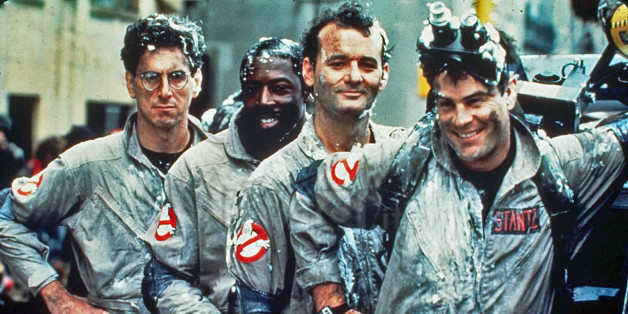 UPDATE: Contrary to what Deadline.com editor Mike Fleming wrote, the new "Ghostbusters" movie won't necessarily be "guy-themed," but it could include Chris Pratt. "It does have some guys at the center -- the concept here is a movie that spins out of the chemistry between real-life friends Channing Tatum and Chris Pratt," Badass Digest editor Devin Faraci wrote in a post on Monday night. "This isn't a case of 'everybody wants Chris Pratt in their movie,' this is a case of these two guys being pals and wanting to make this movie together." EW.com also passed along news that the film's purported male focus was initially overblown. The headline of the Deadline.com story has since been edited to remove "guy-themed," though tweets with that language still exist. Read the full Badass Digest report here. The original story continues below.
EARLIER: Just as excitement over the all-female "Ghostbusters" starring Kate McKinnon, Leslie Jones, Melissa McCarthy and Kristen Wiig has settled, Sony made another announcement about the franchise: a second, "guy-themed" version is in the works, too.
Deadline.com reported that the studio has formed "Ghost Corps," a subsidiary with original "Ghostbusters" creatives Ivan Reitman and Dan Aykroyd, to produce more "Ghostbusters" branding opportunities. The first project will be a new "Ghostbusters" film from Joe and Anthony Russo ("Captain America: The Winter Soldier"). Drew Pearce ("Iron Man 3") will write the script, and Channing Tatum and his partners Reid Carolin and Peter Kiernan will produce. According to Deadline.com, Sony is hopeful Tatum will star as well.
"We want to expand the Ghostbusters universe in ways that will include different films, TV shows, merchandise, all things that are part of modern filmed entertainment," Reitman told Deadline.com.
Whether this happens anytime soon is unclear. The all-female version, directed by Paul Feig and written by Feig and "The Heat" scribe Katie Dippold," is expected to start shooting this summer. The Russo brothers, meanwhile, are reportedly the top choice to replace Joss Whedon as directors of "The Avengers: Infinity War," the final, two-part installment of Marvel's blockbuster franchise. Those films are due in theaters in 2018 and 2019, and could conflict with the planned 2017 start date for this male-driven "Ghostbusters" movie.
BEFORE YOU GO
PHOTO GALLERY
Ghostbusters Turns 30