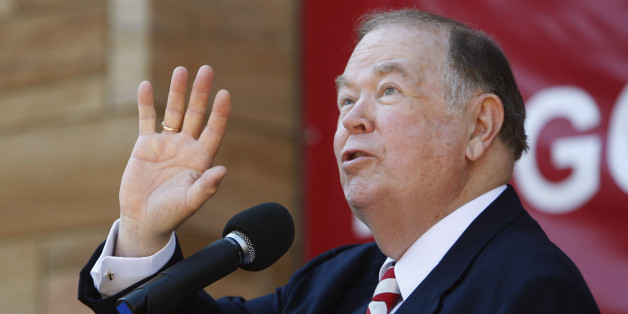 University of Oklahoma president David Boren isn't mincing words -- or giving one racist fraternity chapter more than a matter of hours to pack up and get off his campus.
"You are disgraceful," Boren told members of the school's Sigma Alpha Epsilon fraternity in a scorching statement, booting the chapter after a video surfaced of members participating in a racist chant.
At a student rally Monday morning, Boren even said he "might even pay the bus fare for them."
"There will never be a n***** in SAE," the brothers chanted in short videos uploaded to YouTube and Instagram. "You can hang him from a tree, but he can never sign with me."
In the statement, which Boren posted Monday, he announced the school has "severed ties" with its SAE chapter and gave the brothers until midnight Tuesday to remove personal belongings from their chapter house.
"This has broken my heart," Boren told a group of students and reporters on campus Monday morning, the Associated Press reports.
He asked people across the nation to challenge racism where they see it: "This is a message we need to send out all across the country. Too often, how many times do we in casual conversations allow other people to make racist remarks?"
U-Haul trucks massed around the SAE house Monday afternoon and a cherry-picker removed the fraternity's letters from the wall, as documented by Wendell Edwards, a reporter with Oklahoma City news station KOCO 5.
#SAE Frat members moving out. pic.twitter.com/pns84QYAyO

— Wendell Edwards (@KOCOwendell) March 9, 2015
Boren had strong thoughts about that, too: "As they take their belongings out of the house, I hope they reflect on what they have done. I hope they reflect on what they have said, and the pain they have caused," he said.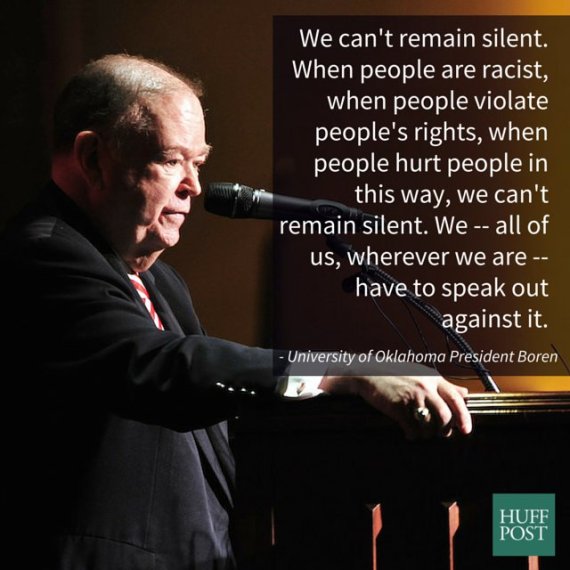 BEFORE YOU GO
PHOTO GALLERY
9 People Who Think Casual Racism Is Ok