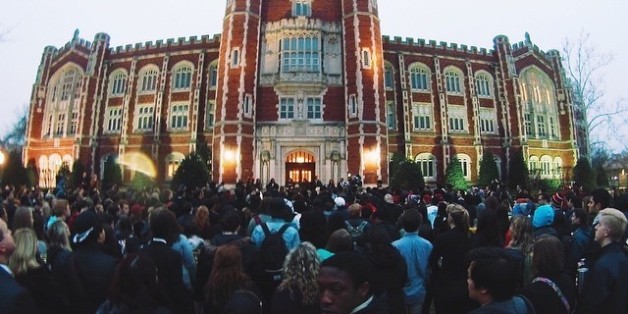 Students gathered on the University of Oklahoma campus Monday morning to protest the racist behavior of Sigma Alpha Epsilon members over the weekend.
Photos posted online show dozens of students gathered, joined by university president David Boren, who condemned the students in SAE.
"You are disgraceful... Real Sooners are not bigots, real Sooners are not racist," Boren said, according to the Oklahoman newspaper.
SAE's national headquarters closed the OU chapter Sunday after video surfaced of members singing, "There will be never be a ni**** in SAE." The university announced Monday morning it too would sever ties with the fraternity.
Students planned to gather Monday at 7:30 a.m. local time to protest SAE's actions. A group of student athletes reportedly formed a circle and were led in prayer by Sooners football center Ty Darlington.
#OneOU pic.twitter.com/JyMBcQW0eY

— Ronald Keith Gaddie (@GaddieWindage) March 9, 2015
Circle of OU athletes, coaches just outside Owen Field, led in prayer by #Sooners center Ty Darlington. pic.twitter.com/nR1BdEIcsg

— Guerin Emig (@GuerinEmig) March 9, 2015
Students gathering outside of Evans Hall @OUDaily @OU_Unheard pic.twitter.com/TKQUwfvnM3

— Tyler Woodward (@tkwoodward) March 9, 2015
Dr. George Henderson, Norman's first African American homeowner in attendance at @OU_Unheard this morning. pic.twitter.com/OPVcHs98HC

— Bijan Hosseini (@BijanHosseini) March 9, 2015
@UofOklahoma @President_Boren just came to demonstration against #SAE video Watch @FOX23 pic.twitter.com/hxJpYIEerk

— Tiffany Alaniz (@TiffanyAlaniz) March 9, 2015
OU students come to voice their anger #SAE via @KaitlinManis_ou pic.twitter.com/A4mob8UlpF

— OU NewsCrowd (@OUNewsCrowd) March 9, 2015
Thank all of you who came to the rally this morning to demonstrate the true values of our university. -DBo

— David Boren (@President_Boren) March 9, 2015
Meanwhile, photos on social media show the SAE property at OU was vandalized overnight, and university police stationed vehicles outside the fraternity house. Boren ordered the fraternity members to remove their belongings by midnight on Tuesday. SAE's national office told HuffPost that the university own the chapter's property, so they have authority over the decision to vacate the house.
"All of us will redouble our efforts to create the strongest sense of family and community," Boren said in a statement Monday morning. "We vow that we will be an example to the entire country of how to deal with this issue. There must be zero tolerance for racism everywhere in our nation."
It looks like the SAE house has been vandalized. One side of the house reads something like "tear it down." @OUDaily pic.twitter.com/dZebbDQT2Y

— Dana Branham (@danabranham) March 9, 2015
#SigmaAlphaEpsilon members packing up and getting out of their house tonight #SAE #OU under #police protection @NEWS9 pic.twitter.com/2AuX0iHwbv

— Heather HOPE (@HeatherHopeTV) March 9, 2015
Just spoke with @UofOklahoma Police & they tell me students have until tonight to move out of @sae1856 house. @OKCFOX pic.twitter.com/88nj0ejYVg

— Danielle Dunn (@DanielleDunnOKC) March 9, 2015