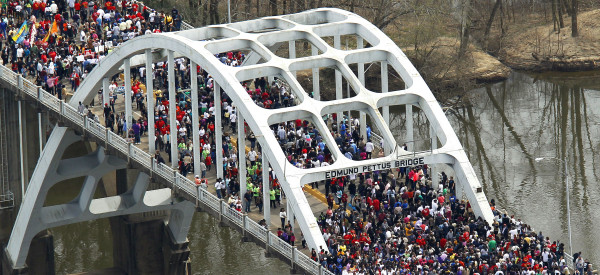 TOP STORIES
To get The Morning Email, HuffPost's daily roundup of the news, in your inbox, sign up here.
THOUSANDS MARCH IN SELMA FOR 50TH ANNIVERSARY "Tens of thousands of people paraded across a Selma, Alabama bridge on Sunday to commemorate the 1965 'Bloody Sunday' march, not waiting for dignitaries who had planned to lead them in marking the 50th anniversary of a turning point in the U.S. civil rights movement." Saturday, President Obama gave a powerful speech on the state of the civil rights movement. And here's how much black life in America has changed in 50 years. [Reuters]

APPLE DEBUTS WATCH Apple CEO Tim Cook will unveil details about the device at a press event in San Francisco at 1:00 pm ET. [Damon Beres, HuffPost]
GOP SENATE LEADERS PEN LETTER TO IRAN'S LEADERS WARNING AGAINST NUCLEAR DEAL "A group of 47 Republican senators has written an open letter to Iran's leaders warning them that any nuclear deal they sign with President Barack Obama's administration won't last after Obama leaves office. Organized by freshman Senator Tom Cotton and signed by the chamber's entire party leadership as well as potential 2016 presidential contenders Marco Rubio, Ted Cruz and Rand Paul, the letter is meant not just to discourage the Iranian regime from signing a deal but also to pressure the White House into giving Congress some authority over the process." [Bloomberg]
CLINTON EMAIL SCANDAL STRAINS RELATIONS WITH THE WHITE HOUSE "Hillary Clinton's exclusive use of private email as secretary of state is testing relations between her emerging campaign and the Obama White House, and their responses could set the tone for how the two Democratic Party powerhouses interact during the next 20 months. The contrasting reactions to the disclosure grew starker over the weekend when President Barack Obama answered questions on the matter, while Mrs. Clinton hasn't." [WSJ]
BOKO HARAM PLEDGES SUPPORT TO ISIS The insurgents pledged their support via an audio message released on Twitter. Hackers claiming to be affiliated with ISIS attacked several small business websites over the weekend. Despite these public movements, the Islamic State may be beginning to "fray from within." [Charlotte Alfred, HuffPost]
MAN WANTED FOR KILLING OF PUTIN CRITIC REPORTEDLY TAKES OWN LIFE Beslan Shavanov, who Russian police believed was connected to the killing of Boris Nemtsov, reportedly blew himself up with a grenade after throwing one at the police surrounding his apartment building. [Jade Walker, HuffPost]
OBAMA SET TO ANNOUNCE HIGH-TECH JOBS PROGRAM The program will include "collaboration with local government leaders -- working with each other and with national employers -- that are committed to expanding access to tech jobs in their communities." [Reuters]
CHAOS AT NBC NEWS How the once-revered newsdesk turned into a cesspool of drama. [New York Magazine]
TRAIL TO THE CHIEF: THIN DEMOCRATIC BENCH EDITION "If the GOP's main problem is a candidate logjam between last year's losers, this year's saviors and also-rans of every order, the Democrats' yawning worry has to be the lack of timber to send to the mill. There's very little sign that the party has done any serious work recruiting future officeholders and grooming them for the national spotlight. And the lack of fresh faces means that fresh ideas -- or fresher takes on old ideas -- are hard to come by. Once you get past Clinton, is there a 'Democratic bench'? Yes. But the problem is, it's probably an actual bench." [Jason Linkins and Lauren Weber, HuffPost]
WHAT'S BREWING
'AMERICAN SNIPER' TOP GROSSING MOVIE OF 2014 Clint Eastwood is laughing all the way to the bank. [HuffPost]
UNDERSTANDING EGG CARTONS What's the difference between extra large and jumbo eggs? [HuffPost]
THIS GUY PROPOSED TO HIS GIRLFRIEND EVERY DAY FOR A YEAR Gentlemen, pick up your game. [HuffPost]
THE HISTORY OF THE COKE BOTTLE In 1915, "Coca-Cola sent out a brief to eight glass companies calling for the use of a 'distinctive package' with two specifications: 'a bottle which a person could recognize even if they felt it in the dark, and so shaped that, even if broken, a person could tell at a glance what it was.'" [Daily Beast]
ABOUT THOSE RYAN GOSLING CHILDHOOD DANCE VIDEOS The guy has always had the moves. [HuffPost]
THE SHOWDOG MURDER MYSTERY "Just 26 hours earlier, Thendara Satisfaction had been strutting his stuff at one of Europe's most prestigious dog shows — his red coat silky and gleaming, his stride jaunty, his head held high. But by Friday evening, the 3-year-old Irish Setter and winner of second place at the Crufts Dog Show was gasping for his last breaths at his home in Belgium, apparently dying from poison. Thendara Satisfaction's co-owner, United Kingdom-based breeder Dee Milligan Bott, told the BBC that a veterinarian's autopsy of the dog's stomach uncovered several undigested cubes of beef that had been stuffed with poison." [WaPo]
PREPARE YOURSELF FOR THE WATERPROOF iPHONE Forget that Otterbox you bought. [Digital Trends]
WHAT'S WORKING
39 INCREDIBLE PICTURES OF WOMEN WORKING AROUND THE WORLD "Whether it's the work of keeping a home and raising a family, building and inspiring a community, or bringing home a wage from a daily job, the wide variety of work women do is worth celebrating. Women are one of the largest growing forces in the global economy -- even though they are paid less than men worldwide." [HuffPost]
ON THE BLOG
BERNICE KING: THE MARCH FOR SELMA LIVES ON "As our struggle continues and as we remember Selma and Bloody Sunday, let us move forward in the philosophy of Nonviolence. I truly believe that is what we owe those who marched toward violence and racist rage on March 7, 1965. Their resolve and resiliency demands that we lift humanity with the principles and the methodology that transforms us first. These are the echoes that I hear from Selma." [HuffPost]
BEFORE YOU GO
~ A $30,000 doghouse.
~ GQ editor: it's okay to go bald.
~ Madonna called Kanye the "black Madonna."
~ Watch a star explode.
~ "Homeland" basically won't be the same show when it comes back after a massive time jump.
~ What happens when you erase women from ads.
~ Kim Kardashian has lightened her hair even further.
~ All of the Harry Potter reunion adorableness.
~ So we all need to move to Cleveland and St. Louis to buy an affordable a house.
~ McDonalds is looking for "its fast food soul."
~ You're clearly missing out if you haven't seen Tom Hanks lipsyncing Carly Rae Jepsen's "I Really Like You."
~ And need a pick me up or a knock down?
Send tips/quips/quotes/stories/photos/events/scoops to Lauren Weber at lauren.weber@huffingtonpost.com. Follow us on Twitter @LaurenWeberHP. And like what you're reading? Sign up here to get The Morning Email delivered to you.