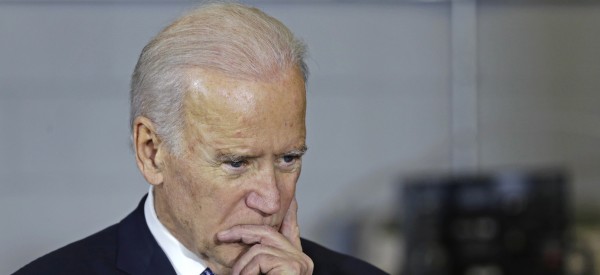 The Morning Email turns one today, and we'd like to say thank you for reading over the past year. We're lucky to have such an incredible following. As always, please feel free to email us at lauren.weber@huffingtonpost.com with any tips or suggestions about improving The Morning Email. Thanks for reading!
TOP STORIES
BIDEN DECRIES GOP'S LETTER TO IRAN "Vice President Joe Biden, who also serves as president of the Senate, blasted Senate Republicans in a long, angry statement for their letter to Iran's leaders, which he described as 'beneath the dignity of an institution I revere.'" The New York Daily News' front page made the paper's thoughts clear on the issue. [Igor Bobic, HuffPost]

NEW NBC/WALL STREET JOURNAL POLL HIGHLIGHTS GROWING ACCEPTANCE OF GAY MARRIAGE At least 59% of Americans are in favor of same-sex marriage, which is nearly double the amount the amount of voters who supported it in 2004. [Sam Levine, HuffPost]
FERGUSON JUDGE WHO ALLEGEDLY DROVE UP MUNICIPAL REVENUE RESIGNS "The judge who allegedly turned Ferguson's municipal court into a city cash cow resigned Monday, and the Missouri Supreme Court ordered a new jurist to take over the city caseload … Last week, the U.S. Department of Justice issued a damning Ferguson Police Department report, detailing how the judge collaborated with Ferguson officials to increase city revenue." [Ryan Reilly, Matt Sledge and Mariah Stewart, HuffPost]
BOKO HARAM FIGHT TURNS REGIONAL Troops from Niger and Chad are joining the fight against the insurgent group terrorizing Nigeria. [WaPo]
FOLLOWING TURKEY'S ISIS SMUGGLERS "Smugglers from border villages who have long earned a living ferrying pistachios, sugar, cigarettes and fuel across the border say they are compelled by the Islamic State to traffic in jihadists, under the threat of death or the end of their livelihoods. Sometimes they receive a late-night phone call from an ISIS commander inside Syria directing them to receive a recruit at a luxury hotel in this city to escort across the border." [NYT]
HILLARY CLINTON PLANS TO HOLD PRESS CONFERENCE TO ADDRESS EMAIL SCANDAL Likely in the next few days. [Politico]
MAPPING RUSSIA'S STATE OF AFFAIRS IN UKRAINE "So far, economic sanctions from the West have not dissuaded Russia. Neither have two cease-fires. Both have failed, and a third, brokered by Germany and France, could collapse." [NYT]
BLACKMAILER THREATENED TO POISON NEW ZEALAND'S BABY POWDER Unless the country changed its pesticide regulations. [AP]
UBER PLANS TO CREATE ONE-MILLION JOBS FOR WOMEN DRIVERS IN THE NEXT FIVE YEARS Considering Uber currently has an estimated 900,000 drivers globally, adding a million more women drivers implies their growth projections are looking pretty darn good. [USA Today]
WHAT'S BREWING
THE APPLE WATCH DEBUTS TO UNIVERSAL PRAISE Tech critics love the watch, which you can buy starting April 24th. Prepare to shell out though, as models range from $349 to $17,000. And don't forget that yesterday's Apple announcement also featured the reveal of the lightest MacBook to date. [HuffPost]
SIMPSON'S CO-CREATER HAS DIED Sam Simon, who fought a public battle with colon cancer for over two years, died Sunday. He was 59. Tributes from across Hollywood continue to pour in. [HuffPost]
PRINCE FARMING'S ENGAGED Hear what Bachelor Chris Soules has to say about his "soulmate" Whitney Bischoff. And prepare yourself for the drama of next season's "Bachelorette," as the men will choose between fan-favorites Kaitlyn Bristowe and Britt Nilsson. [HuffPost]
CHANNING TATUM AND CHRIS PRATT ARE HEADED TO THE 'GHOSTBUSTERS' UNIVERSE Following news of Paul Feig's all-girl remake of the classic, Chris Pratt and Channing Tatum are teaming up against ghosts of their own. [HuffPost]
THERE WON'T BE A 'FROZEN' SEQUEL FOR A WHILE That sound you're hearing is parents rejoicing around the world over their hiatus from "Let It Go." [HuffPost]
IS THIS THE END OF THE NETFLIX BINGE (AND CABLE)? Netflix has announced its latest original content show, "Between," will air weekly. [Entertainment Weekly]
YOU WON'T HAVE TO GO LONG WITHOUT 'THE WALKING DEAD' The show's LA-set spin off will debut this summer. There aren't many folks on Rodeo Drive with crossbow skills, so this could be a short-lived series. [HuffPost]
HOW THE POP-TART RUINED BREAKFASTS The quick pastry doomed the tradition of a leisurely breakfasts. [HuffPost]
WHAT'S WORKING
MAKING REFUGE LATRINES SAFE "Driven to find a way to protect women and girls in refugee camps who are often assaulted when they go to the bathroom at night, researchers at the University of the West of England (UWE Bristol) have devised a urinal that lights up when a person uses it." [HuffPost]
ON THE BLOG
BREAKING THE NUN MOLD "People are baffled that my exterior -- a 27-year-old who used to work at Clinique and peruses Pinterest for fashion inspiration -- could reflect an interior longing for consecrated life and its seemingly antiquated vows of celibacy, poverty and obedience. Their questions have forced me to confront my self-image. Who do I see in the mirror? How do I appear in God's eyes? How does one affect the other?" [HuffPost]
WHAT TEENAGE DEPRESSION LOOKS LIKE Hint: it's not all dark circles and long faces. [HuffPost]
BEFORE YOU GO
~ There be dragons in the latest "Game of Thrones" trailer.
~ This flight attendant can do quite the dance routine to "Uptown Funk."
~ The first Taco Bell.
~ Is Shia LaBeouf engaged, rattail haircut and all?!?
~ You will have an eargasm over this song, which features Sam Smith and John Legend.
~ Madonna talks being a cougar.
~ The dangers of Yik Yak, the anonymous gossip app all the kids are using these days.
~ Meet the lizard we're pretty sure every Pixar movie was ever based off of.
~ At least 9% of Americans have never sent an email.
~ Here's who's headlining Woody Allen's next movie.
~ When a bank loses your check for $100,000, the best thing you can do is ask investigative reporters to get involved.
~ Rome's new red-light district.
~ If you like puns, food and state names, you'll love this adorable father-son project.
~ Toddler survives horrific car crash after rescuers hear a mysterious call for help.
~ What "The Unbreakable Kimmy Schmidt" gets right about growing up in a cult (from someone who did).
~ Cameron Diaz has ditched her blonde locks.
~ The latest images of Mercedes' driverless car prove the vehicle is just as luxurious as you'd think it would be.
~ When you get jailed for showing up to work early.
~ As long as you're not afraid of heights, here's the Himalayas from 20,000 feet.
~ Kate Middleton looked lovely durkng her latest public appearance. Her baby is due in under two months!
~ Dreams of a downtown Los Angeles NFL stadium have been squashed.
~ Even France is having a hard time swallowing the recent ad campaign for a website that facilitates extramarital affairs for married women.
~ The status quo of weed and Congress.
~ Mumford & Sons without the banjos sounds pretty much like everybody else.
Send tips/quips/quotes/stories/photos/events/scoops to Lauren Weber at lauren.weber@huffingtonpost.com. Follow us on Twitter @LaurenWeberHP. And like what you're reading? Sign up here to get The Morning Email delivered to you.