The Clinton email controversy leads to more interaction and a more negative tone about her on Facebook, but are attitudes changing? Democrats sour on Netanyahu following his speech to Congress. And Americans prefer local government to Washington. This is HuffPollster for Wednesday, March 11, 2015.
CLINTON EMAIL STORY GENERATES FACEBOOK CHATTER - A Facebook analysis shows a "huge, sustained spike in the number of Facebook interactions" about Hillary Clinton since news broke about her use of a private email address while she served as Secretary of State that shows a "gradual but marked downturn" in tone. As reported by Buzzfeed's Katherine Miller, Facebook interactions about Clinton had ranged between 151,000 and 319,000, before the New York Times broke its first story about Clinton's use of private email. Interactions with Clinton posts immediately jumped to 1 million on March 3, peaking at 1.5 million on March 5 and declining gradually to 672,000 on March 7 (the graphics in the story initially had the March 7 figure as 672 million; Buzzfeed corrected the error on Wednesday morning). Facebook defines interaction in this instance as people commenting about Clinton on their accounts. [Buzzfeed]
As volume increases, tone turns negative - More from Miller: "The share of conversation about Clinton that was positive dipped from 57% during one period in the fall to 52% in January and then a 50% average in February. By Feb. 28, that sentiment [about Clinton] turned negative, and has stayed largely more negative than positive as conversations multiplied amid debate over her use of a personal email account. The sentiment data is drawn from a Facebook project that analyzes the language and symbols used by the massive social networks users....The sentiment data may not mirror polling data, though it has so far roughly tracked public polls. Her favorability rating has gradually declined, from peak over 60% in 2010, to below 50%, according to a recent New York Times average of public polls."
A measure of opinion, but not a poll - This episode highlights both the promise of Facebook data analysis and its challenge. The posting of stories and comments by millions of Americans, who can explicitly "like" what they see, allows for groundbreaking tracking of public opinion in real time. Yet the large spike in engagement means analysts should not track the data as they do opinion polls, which represent multiple measurements of the same population over time. In this case, the recent downturn of sentiment may reflect a change in the population interacting with posts about Clinton, with Republicans and conservatives increasingly activated. It will take standard polling to confirm whether attitudes about Clinton have changed, and not just those talking about her on Facebook.
DEMOCRATS SOUR ON NETANYAHU - Jeffrey Jones: "After Israeli Prime Minister Benjamin Netanyahu's much-publicized and controversial address to Congress, Americans' opinions of him have worsened. His [overall] favorable rating is down seven percentage points, to 38%, while his unfavorable rating has increased five points, to 29%. These changes are largely confined to Democrats; Republicans' views are essentially stable. The current rating, based on a March 5-8 poll, came just days after Netanyahu's March 3 address to Congress. Netanyahu's 45% pre-visit rating ranked among the highest Gallup has measured for him....The March 3 visit appears to have soured Americans' -- specifically Democrats' -- views of Netanyahu, though he remains more positively (38%) than negatively (29%) rated overall. Thirty-three percent of Americans do not have an opinion of Netanyahu, essentially unchanged from before the visit. Since February, Democrats have shifted from a 32% favorable/32% unfavorable opinion of Netanyahu to 17% favorable/46% unfavorable. The majority of Republicans, 62%, view the Israeli prime minister favorably." [Gallup]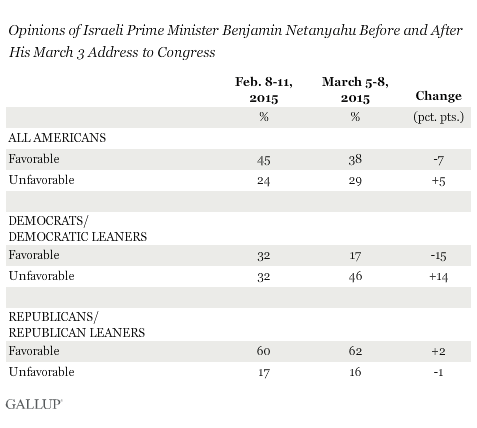 AMERICANS PREFER LOCAL GOVERNMENT TO DC - NJ Heartland Monitor Poll Nancy Cook: "The most recent results of the 22nd Heartland Monitor poll, sponsored by Alllstate and National Journal...[show] the public favoring state and local institutions over the federal government as the places best equipped to offer solutions to the country's ongoing economic and social challenges. And federal government? Well, it just leaves people wanting more, according to the polling data. Of the 1,000 American adults surveyed, just 26 percent said that national-level institutions were making progress, compared to the 64 percent who favored the state and local levels. This conclusion cuts across the lines of gender, education, socioeconomics, and even different regions of the country. In short, Americans are fed up with the sniping and paralysis at the federal level and instead are turning their attention to local governments and groups for solutions." [National Journal]
FUNDAMENTALS EXPLAIN CONGRESSIONAL DYSFUNCTION - Matt Grossmann and David A. Hopkins: "Immediately after Republicans gained control of the U.S. Senate in the 2014 midterm elections, incoming majority leader Mitch McConnell pledged that 'there will be no government shutdowns' on his watch. Yet the newly unified Republican Congress took less than two months to force a standoff with the Obama administration over appropriations for the Department of Homeland Security… With Congress facing the exhaustion of the Highway Trust Fund in May, the need to raise the federal debt ceiling by the fall and the end of the fiscal year Sept. 30, more governing crises are possible, and maybe even probable... Republicans have been more ideologically unified and motivated than Democrats for at least 50 years. Given this foundational asymmetry, it is hardly surprising that the Republican Party is particularly susceptible to powerful internal movements pursuing greater ideological purity. The asymmetric nature of the parties is likely to shape the 2016 presidential nomination contests. As long as presumptive favorite Hillary Clinton retains strong support among the social groups that constitute the Democratic electoral base ...she has little reason to fear a serious intraparty challenge from the ideological left...The Republican presidential field, in contrast, will likely be dominated by multiple candidates who each claim the mantle of true conservatism. [WashPost]
HUFFPOLLSTER VIA EMAIL! - You can receive this daily update every weekday morning via email! Just click here, enter your email address, and click "sign up." That's all there is to it (and you can unsubscribe anytime).
WEDNESDAY'S 'OUTLIERS' - Links to the best of news at the intersection of polling, politics and political data:
-Gallup finds economic confidence still underwater, though improved from last year. [Gallup]
-Awareness of net neutrality has grown and Americans with an opinion have mostly positive reactions to the new net neutrality rules. [YouGov]
-Women continue to bear a heavier burden when it comes to balancing work and family. [Pew]
-PPP (D) finds Scott Walker trailing Hillary Clinton by 9 percentage points in Wisconsin. [PPP]
-Fifty-seven percent of Republicans are unlikely to support Gov. Chris Christie for president. [HuffPost]
-Low support from Democrats gives Connecticut Gov. Malloy a net negative job approval rating. [Quinnipiac]
-Hillary Clinton's base believes the media is too hard on her, Harry Enten reports. [538]
-Mark Mellman (D) uses an experiment with amnesiacs to explain why advertising recall is a poor measure of its effectiveness. [The Hill]
-AAPOR's Survey Practice dedicates a special issue to training for survey research and methodology. [Survey Practice]
-The New York Times stands up for Census funding. [NYT]
BEFORE YOU GO
PHOTO GALLERY
Hillary Clinton