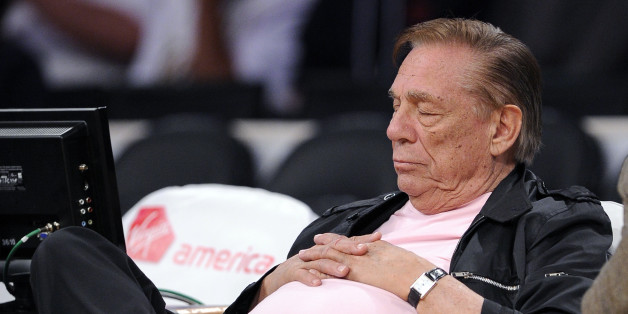 Donald Sterling, reviled former owner of the Los Angeles Clippers who is now nothing more than a normal reviled billionaire, filed an amended complaint in the U.S. District Court in Los Angeles last week regarding the whole losing-the-Clippers thing.
The news here is that Sterling has thrown his wife, Shelly Sterling, and two doctors into the growing pool of defendants, alleging his wife conspired with the NBA to sell the team and the doctors illegally released Sterling's medical records to the public.
But what's really notable about the lawsuit is just how much we learn about Sterling's mind (or maybe the minds of his lawyers) by going through it.
For those who need a quick refresher: Sterling was banned from the NBA for life and dealt a $2.5 million fine last year after an audio recording surfaced of the then-Clippers owner making a number of racially disparaging remarks. There was a lot of messy back and forth after that, but eventually, his wife agreed to sell the team to former Microsoft CEO Steve Ballmer for $2 billion.
Now that we're all caught up, here are some of the most Sterling-esque moments of the complaint, which we've embedded in its entirety at the bottom of this post:
1. Sterling refers to V. Stiviano, his visor-wearing former romantic whatever-she-was and the recorder of the recordings, as a "former friend" in the complaint, which is a pretty sick burn.
2. The complaint also refers to the Clippers as Sterling's "crown jewel."
3. Sterling accuses current NBA commissioner Adam Silver, former NBA commissioner David Stern, his wife and others of colluding as part of a "civil conspiracy" to drain Sterling of his wealth, or cause "injury to Sterling's financial interests," as the complaint puts it.
4. Sterling alleges that "several of the statements on the recording were not made by Sterling" and that others were "apparently altered by Stiviano or her agents." (For what it's worth, a forensic expert came to the opposite conclusion last year.)
5. The complaint alleges that the "public outrage" over what was caught on the tapes -- like, "it bothers me a lot that you want to broadcast that you're associating with black people" -- was "media-induced." Seems worth noting that Sterling was voted the most hated man in America at one point last year.
6. The complaint alleges that pulling the team out from under Sterling's ownership was "a move that the NBA brass had been waiting to make for several decades," which is plausible but also a kind of surprisingly self-aware thing to admit, no?
7. Here's a fun footnote buried in the complaint: "The NBA has had a personal vendetta against Sterling ever since he relocated the Clippers from San Diego to Los Angeles in 1984," rather than because of the decades of racist behavior.
8. Sterling says his wife knew that his "modes operandi" [sic] is to obtain property, then never sell it under any circumstances, which is just so perfectly Sterling.
9. He says he could have sold the team for more than $2 billion, which might be true, but like, no one has ever paid more for a professional basketball team in North American history. Are you really that upset?
See anything we don't? Email maxwell@huffingtonpost.com.