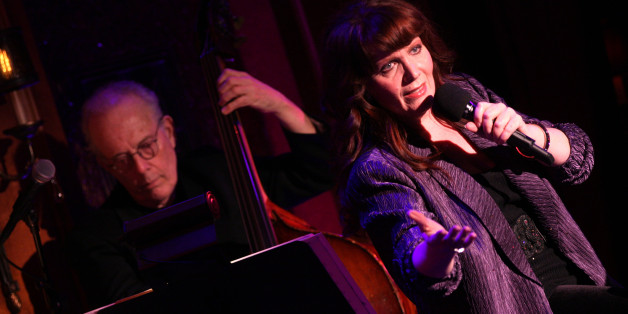 Audiences hoping for Maureen McGovern to perform her signature hit, "The Morning After," when she takes the stage of New York's 54 Below might be surprised to find the Oscar-winning tune, made famous in 1972's "The Poseidon Adventure," missing from her set.
McGovern, 65, acknowledges how extraordinarily rare it is for an artist to omit one of their staples from a concert performance, but these days, she's delving down a different, and in some respects more personal, path. Her latest act, appropriately titled "Sing, My Sisters, Sing!." emphasizes the work of female singer-songwriters, including Annie Lennox, Laura Nyro, Janis Ian and Joni Mitchell, among others. ("The Morning After," incidentally, was penned by two male writers, Joel Hirschhorn and Al Kasha)
The singer-actress, who last performed at 54 Below in 2012, spoke to The Huffington Post ahead of "Sing, My Sisters, Sing!" which opened at 54 Below March 10. Speaking by telephone from her home in Ohio, she discussed her love of the female voice in rock and pop and why she still loves the gypsy life after four decades in the business.
Congratulations on your return to New York's 54 Below. What do you like most about performing here?
First, it's a beautiful room. Broadway's finest put it together and designed it. It's a warm room, I like it very much.
What surprises can the 54 Below audience look forward to in your show?
The show is called "Sing, My Sister, Sing," and it's a celebration of women singer-songwriters, mostly from the second half of the 20th century, but with a nod back to my early singing sisters, like Ella Fitzgerald and Billie Holiday, and even a nod back further to the late 1800s, the early poets who wrote poems that later became songs, paving the way for the singer-songwriters we know today.
When you put together a show like this, what is your thought process as far selecting material is concerned?
I wanted to do this idea for a long time. Several years ago, I was doing an AIDS benefit in San Francisco. Helen Reddy, who had taken a hiatus from show business for a while … she came out of semi-formal musical retirement and performed at the benefit. I was watching her rehearsal, and she just recited the words to "I Am Woman" with no music … and it was absolutely brilliant. It was chilling. That was kind of the genesis of it. I just thought that was the seed for [a show].
It's time for women to have their due, because it's a very rich chapter of the American pop songbook, and they write from a very introspective and intimate point of view. Very rich lyrics and very powerful lyrics.
Are you able to find ways to explore yourself through this music?
I always have. "West Side Story" got me through junior high, The Beatles got me through high school and Joni Mitchell got me through my divorce. I can't imagine my late teens, early 20s on into my 30s without the canon of her music. She's a goddess to me. She's amazing.
Why do you think that this material stands the test of time as much as it does?
It stands the test of time because it's about time! (laughs) I don't tend to do a museum piece, I always find what's relevant about this music today, whether that's James Taylor, Paul Simon or Carole King, Joni Mitchell and Janis Ian … Janis Ian's "At Seventeen" is just a masterpiece. What to leave out was hard!
Do you find that contemporary pop music has the same resonance for you, or has that changed?
I'm a dinosaur, somewhat, but I know I will be looking for more songs into the later 2000s. I tend to gravitate back to the songs that represented my coming-of-age. These are the songs that affected my life for the rest of my life, so that's where I am right now. But I just scratched the surface knowingly with this show. There are several shows I can do and plan to do.
What do you like most about performing in New York?
What I love about cabaret in New York is that you can pick the most obscure song and somebody in the audience is going to know it and where it came from. It's just a very sophisticated, wonderful audience.
This interview has been edited for clarity and length.
Maureen McGovern performs "Sing, My Sisters, Sing!" at New York's 54 Below through March 14. Head here for more information.