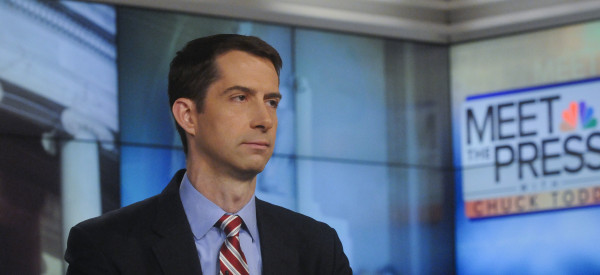 TOP STORIES
To get The Morning Email, HuffPost's daily roundup of the news, in your inbox, sign up here.
GOP RUSHES TO BLAME OBAMA AFTER CONTROVERSIAL LETTER TO IRAN'S LEADERSHIP Some supporters of the letter 47 GOP senators sent to Iran's leadership decrying the impending nuclear deal have argued that Obama's lack of coordination with Congress necessitated the controversial letter. Several potential 2016 GOP candidates have thrown their support behind the letter. [Jessica Schulberg and Sam Stein, HuffPost]
11 MISSING AFTER ARMY HELICOPTER CRASH "Seven Marines and four soldiers were missing Wednesday after a helicopter crashed over the water on the Florida Panhandle during a routine night training exercise, and officials said heavy fog was hampering search efforts." [AP]
HILLARY CLINTON: 'I THOUGHT IT'D BE EASIER' TO USE ONE EMAIL ADDRESS In a press conference yesterday, Hillary Clinton addressed the personal email controversy for the first time, leaving many with more questions than answers. Clinton stated she used a single, private email as a matter of convenience. She added she had turned over emails requested by the State Department, and deleted any personal emails that were "within the scope of [her] personal privacy." Many experts are questioning the server's security despite Clinton's assurances, as well as the apparent lack of classified infomation. [Paige Lavender and Sam Stein, HuffPost]
AT LEAST 6.5 MILLION SOCIAL SECURITY NUMBERS ARE BEING USED FRAUDULENTLY "Thousands of workers over the age of 100 applied to verify their employment eligibility through the U.S. government in recent years. It's not a trend toward an older workforce, but a sign of identity fraud, according to federal auditors. A recent watchdog review found that at least 6.5 million active Social Security numbers belong to people who are at least 112 years old and likely deceased." [WaPo]
EXPELLED OKLAHOMA FRATERNITY BROTHERS APOLOGIZE FOR VIDEO Two of the students caught chanting racist obscenities on video have apologized. Both of the young men were expelled for their actions. [Alana Horowitz, HuffPost]
HOW THE CIA HELPED HACK YOUR PHONE "The Central Intelligence Agency played a crucial role in helping the Justice Department develop technology that scans data from thousands of U.S. cellphones at a time, part of a secret high-tech alliance between the spy agency and domestic law enforcement, according to people familiar with the work." [WSJ]
TIKRIT VICTORY IN REACH FOR IRAQ, SHIITE FORCES "Iraqi security forces and allied Shiite militias seized large parts of Tikrit on Tuesday, amid reports that most of the Islamic State militants battling to hold the city had begun retreating, security officials said." [NYT]
ISIS RELEASES VIDEO OF CHILD EXECUTING HOSTAGE The young boy appears to shoot a Palestinian hostage in the head in the "highly-stylized" video. [Charlotte Alfred and Nick Robins-Early, HuffPost]
WHAT'S BREWING

MEET THE GOOGLE CALENDAR iPHONE APP Finally. [Gmail Blog]
ROBIN THICKE, PHARRELL ORDERED TO PAY OVER $7.3 MILLION TO MARVIN GAYE ESTATE The pair lost the "Blurred Lines" copyright lawsuit brought against them by Gaye's family, which alleged Thicke and Pharrell had stolen parts of Gaye's famous "Got To Give It Up." [AP]
THE SECRET WORLD OF DOG SLEDDING "Watch sled dogs in action, and the first thing that strikes you is how much they love to run. They almost smile when they're hooked to the sleds, tongues hanging out. They finish runs with their faces covered in iced-over slobber and that same goofy smile. Then they eat some snow and lay in the ice for a minute before getting up to yank once more at their harnesses, ready to go again." [Vice]
DON'T HAVE TIME TO DRIVE CARPOOL? A growing number of parents are turning to Uber to transport their children -- unattended. [WaPo]
DISNEY ALREADY HOLDS THE FEATURE OF WEARABLE TECHNOLOGY "If you're wearing your Disney MagicBand and you've made a reservation, a host will greet you at the drawbridge and already know your name—Welcome Mr. Tanner! She'll be followed by another smiling person—Sit anywhere you like! Neither will mention that, by some mysterious power, your food will find you." [Wired]
JPMORGAN'S JAMIE DIMON TALKS CANCER BATTLE "You wonder: how could it possibly be me? Well, of course it could happen to you. You have it." [Vanity Fair]
KILL THE COVER LETTER Does anyone really read them? [HuffPost]
NOISE EASILY DISTRACT YOU? You could be a creative genius. [HuffPost]
BECAUSE IT'S IMPOSSIBLE TO POACH AN EGG Here are Julia Child's tips and tricks. [HuffPost]
WHAT'S WORKING
MATERNITY PAID LEAVE THAT WORKS "Vodafone announced late last week that it would offer a minimum of 16 weeks of paid leave to new mothers in all 30 countries in which the telecommunications giant operates. Even more groundbreaking: The company will let returning mothers work 30-hour weeks and still get full-time pay and benefits for the first six months they're back at work." [HuffPost]
ON THE BLOG
ELIE WIESEL: USING MEMORY TO SERVE US "Forgetting man's past atrocities or ignoring those happening, now, today, in too many places around the world, is both callous and short-sighted, because it permits violence to happen again, often, and closer to home. That is bad enough. But it's equally hazardous to ignore the astonishing and perilous acts of human courage that negate, undo, reverse the violence and uphold our rights and dignity as humans. By forgetting, we relinquish the record of human history to those who have destroyed, not those who have saved and built." [HuffPost]
BEFORE YOU GO
~ It's pretty difficult to buy a Hummer.
~ When you get robbed on camera.
~ That time Ireland accidentally legalized meth, ecstasy and shrooms.
~ Everything you need to know about HBO Now.
~ Rescuers saved this 475-pound turtle.
~ It's pretty much impossible not to watch the "Game of Thrones" season five premiere.
~ We got an epic preview of "Zoolander 2" when Ben Stiller and Owen Wilson walked at Valentino's Paris show.
~ That was fast: Bachelor Chris Soules will be competing on "Dancing with the Stars."
~ The most beautiful ballet duet set to Sam Smith.
Send tips/quips/quotes/stories/photos/events/scoops to Lauren Weber at lauren.weber@huffingtonpost.com. Follow us on Twitter @LaurenWeberHP. And like what you're reading? Sign up here to get The Morning Email delivered to you.