The past few years have been a very trying period for the women's surf industry. On several occasions, the media and the brands associated with the sport have been criticized for oversexualizing female surfers and undermining their talent.
For a prime example of this problem, look no further than 2013, when pro surfer and model Anastasia Ashley rode one of her biggest waves yet. The feat was met with headlines like, "Hot Surfer Chick Catches Huge Wave, Famous Butt Unscathed."
But the tide could be changing.
The newly revamped World Surf League has instituted a number of rules to ensure prize money and broadcast quality parity for women's events. According to three-time World Champion Carissa Moore, these changes are "huge" for women's surfing. "It makes me feel like they believe in us," she told HuffPost.
While many are hopeful that the WSL's new rules will change the tone of women's surfing, active role models among female athletes can also shift perspectives, surfer Darcy Roland says.
"When women and girls have role models to identify with," she wrote for surf blog The Inertia, "it helps them to eliminate the unconscious bias that exists about what a surfer is supposed to look like."
In honor of Women's History Month, we look back at the pioneers of women's surfing -- the original role models. These women who surfed in the '50s and '60s didn't have to deal with the pressure of billion dollar brands and sensationalist media, but they did have to face male-dominated lineups and rigid stereotypes about the roles of women.
"It was difficult [for these women] to be surfers when they were expected to have a family and make a happy home," Cori Schumacher, world champion surfer and founder of the History of Women's Surfing Project, told HuffPost. "There was this camaraderie of 'Let's escape from the bullshit ... and be together in the freedom of the ocean.' [They challenged] the stereotypes of what it meant to be a woman on land."
Below, meet the inspiring women of the '50s, '60s and '70s; the women who first grabbed a board and then made waves:
Linda Benson: The First Woman To Surf Waimea Bay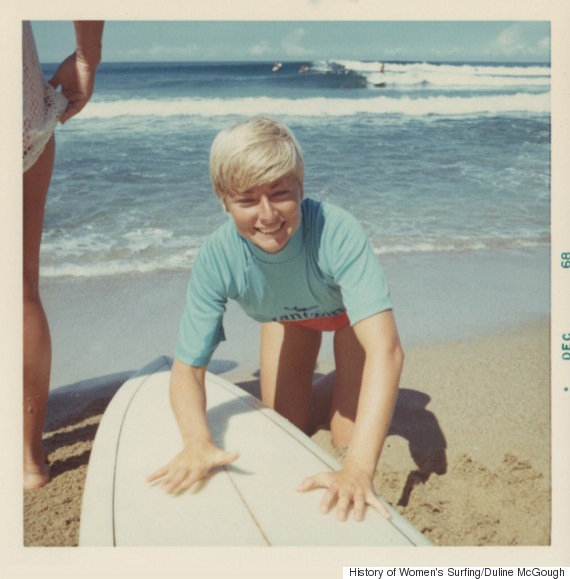 Linda Benson was only 15 years old and on her first trip to Hawaii when she paddled out in Waimea Bay, the sport's most revered big wave surf break, in 1959.
She grabbed a board from the shortest guy she could find and charged into the bay's 18-foot waves. It was just days after she became the youngest surfer ever to enter -- and win -- the International Championship at Makaha, Hawaii.
"I don't remember fear," Benson told The Huffington Post. "I just wanted to do what the guys did. I didn't think twice about it."
Benson competed for 10 years, winning over 20 first place titles and becoming the first woman to be featured on the cover of a surf magazine.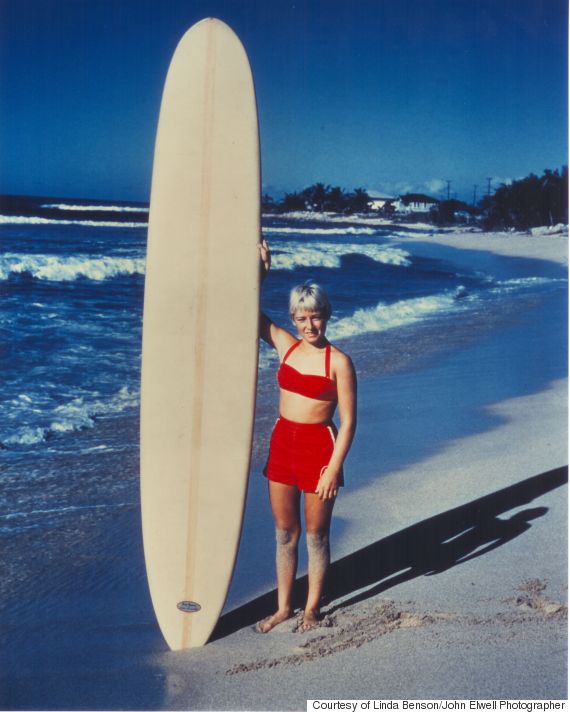 Left: 15-year-old Linda Benson at Makaha Beach, 1959.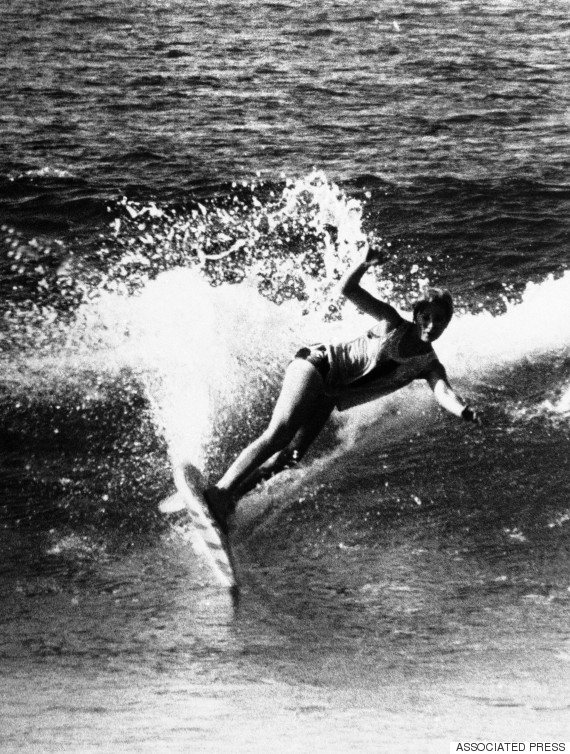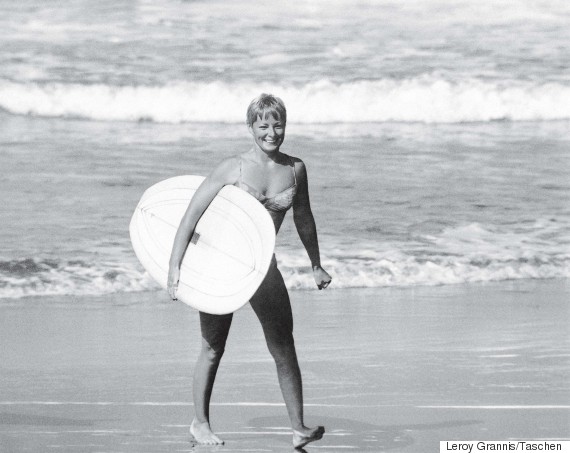 Linda Benson, Hermosa Beach, 1968. © 2010 LeRoy Grannis.
Joyce Hoffman: The First To Train Like A Serious Athlete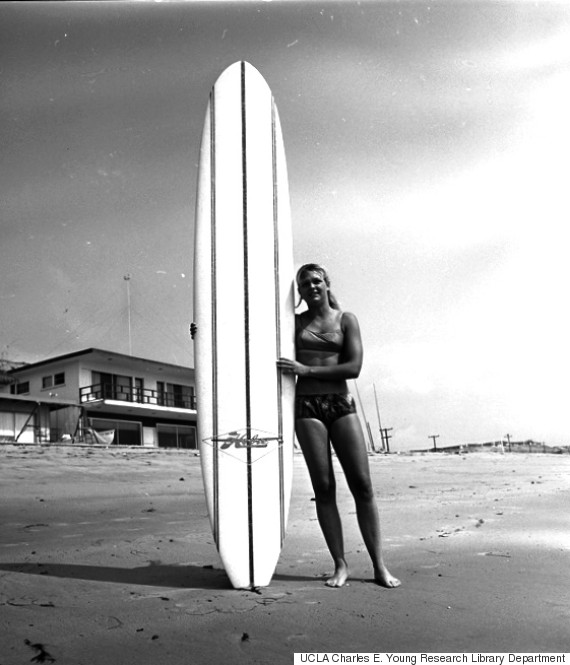 Surf historians note that surfing in the 1960s was counterculture and, as a result, most surfers weren't much more than free-spirited beach bums.
Joyce Hoffman changed all that. She originally aspired to be an Olympian, so she was one of the first surfers to train like an athlete, according to Schumacher. "When surfers were in a rock and roll and drugs phase, she was the first to have an attitude of, 'I want to take this sport seriously.' ... She was way ahead of her time in that regard," Schumacher told HuffPost.
Even her own father found her attitude unusual for a surfer girl in in the mid '60s. "My daughter's real weird," Hoffman's father, a pro surfer himself, was quoted saying in a 1965 profile of her for Sports Illustrated. "She wants to win. The other girls couldn't care less."
Hoffman's training paid off. She dominated nearly every surf competition she entered and her competitive prowess earned her the title of the Los Angeles Times' "Person of the Year." Hoffman is the only surfer ever to earn that honor.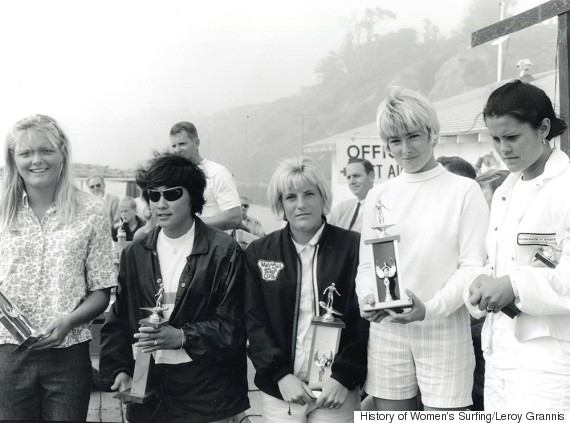 Joyce Hoffman (first woman on the left) and Linda Benson (fourth from the right) in San Clemente, California. 1960s.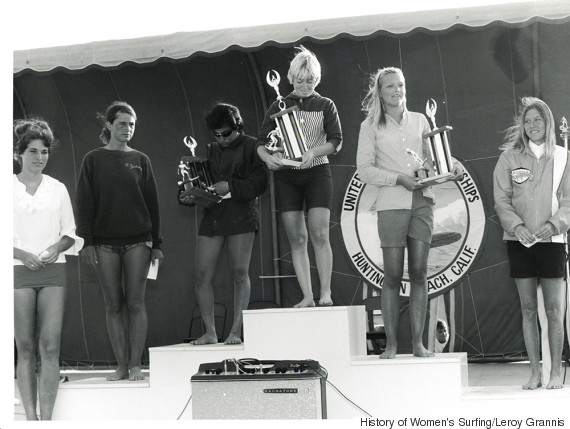 Joyce Hoffman (second from the right) at the U.S. Championships at Huntington Beach, California. 1960s.
Marge Calhoun: The First Woman To Judge Contests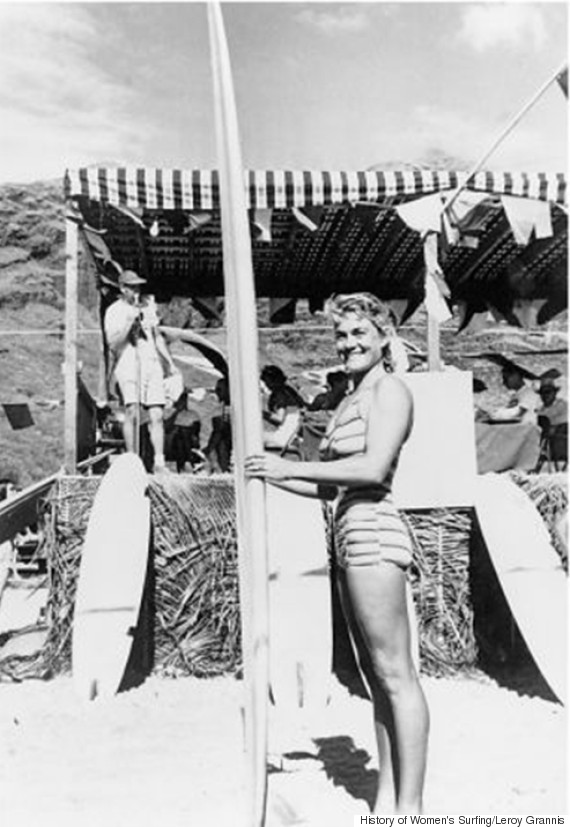 Marge Calhoun didn't become interested in surfing until her late 20s, after her husband surprised her with a brand new surfboard. Before that, she was a competitive swimmer and diver who was training for the 1940 Olympic Games before it was cancelled due to World War II.
After only a few years of surfing, the 32-year-old Calhoun jetted off to Hawaii for a monthlong surf trip with a girlfriend. She spontaneously entered into the Makaha International Surf Contest and won.
Calhoun passed her love of surfing onto her two daughters and together, the three women became one of America's most prominent surfing families in the '60s, winning contests and often competing against one another. Calhoun co-founded the United States Surfing Association in 1961 and became the organization's first woman to judge women's contests.
Marge Calhoun (right) with Eve Fletcher during a surf trip to Makaha, Hawaii. 1958.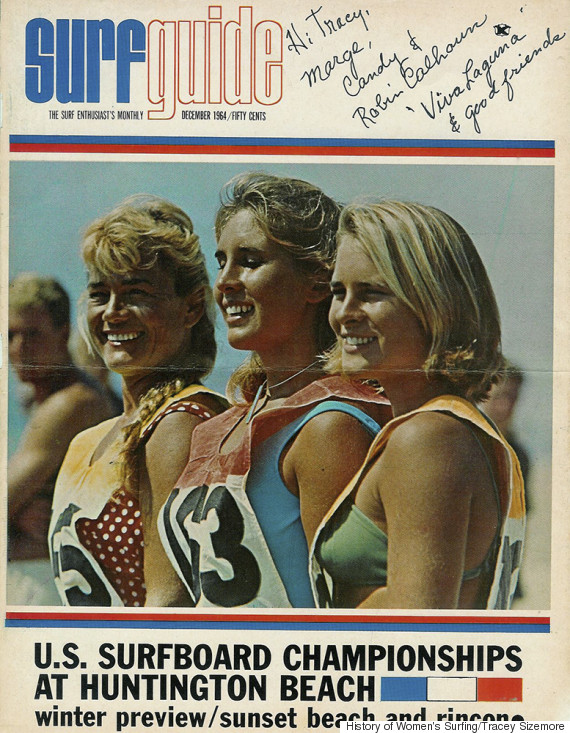 Marge Calhoun (left) and daughters Candy (middle) and Robin (right) on the cover of SurfGuide. Photo courtesy of Tracey Sizemore. 1964.
Rell Sunn: The First Woman To Surf With Aloha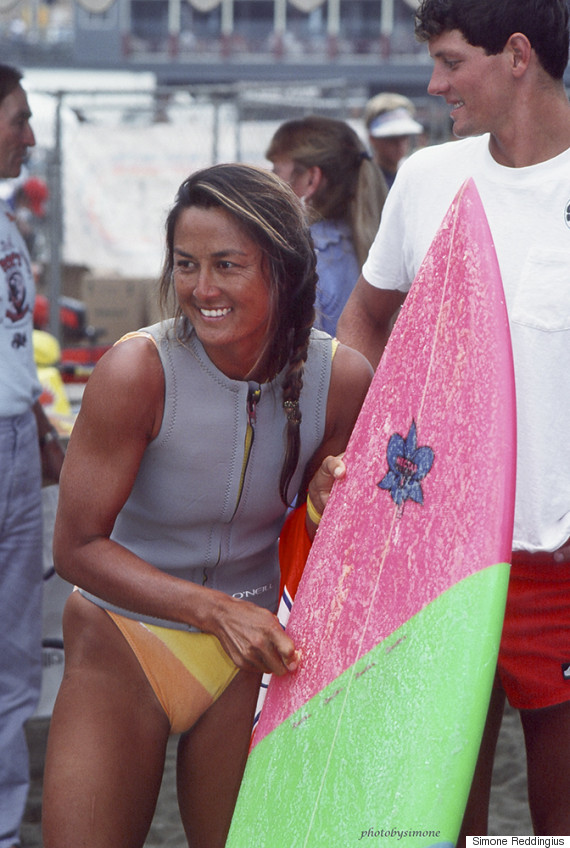 Rell Kapolioka'ehukai Sunn began surfing at the age of 4. As a Hawaii born and raised waterwoman, she was known for bringing aloha -- the Hawaiian spirit of compassion, grace and charity -- to the surfing world, becoming the world's greatest female longboarder, and for surfing competitively throughout her 14-year struggle with breast cancer. In 1974, she famously founded the annual Menehune Contest -- the first contest held exclusively for Hawaiian youth -- at Makaha, which is still held today.
"She was one of the most outspoken and most visible Hawaiian females from [the 70s and 80s]," Schumacher told HuffPost. "Juxtaposed with this hyper-competitive, male-dominated shift that surfing was going through, was this figure of Rell Sunn who was still occupying a place of aloha [and presented] surfing as a gift rather than as a selfish endeavor."
She was a champion longboarder who competed in men's competitions in Hawaii before a women's category was established and, by 1975, she became one of Hawaii's first female lifeguards. She also founded -- with a group of surfers -- the Women's Professional Surfing Association and formed the first professional tour for women surfers.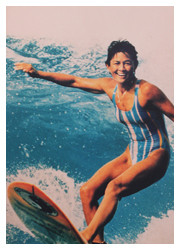 Photo courtesy of Hawaii Sports Hall of Fame.
Thanks to these trailblazers, there are more women shredding waves today than ever before, and increasingly, "Female surfers everywhere are making it clear that [the hypersexualized] stereotype is dead in the water," Schumacher writes.
We just hope that the surf brands and the media are listening.
BEFORE YOU GO
PHOTO GALLERY
21 Photos That Showcase Women's Athleticism