Desiree Andrews is a cheerleader at Lincoln Middle School in Kenosha, Wisconsin. She's in eighth grade and has Down syndrome.
Last year, Andrews was reportedly bullied by some kids in the stands during a boys' basketball game. But she did not have to bear the harassment alone.
Kenosha News reports that a few of the players on the basketball team immediately took a stand against the bullies, walking off the court during a time-out to tell them off.
"One of the kids stepped up and said, 'Don't mess with her,'" Brandon Morris, who had been the boys' seventh-grade coach last year, told the news outlet. "Then all of the guys got together to show her support."
Some of players involved in the intervention told WTMJ-TV that they decided to step in because the bullies' words made them "mad."
"It's not fair when other people get treated wrong because we're all the same. We're all created the same. God made us the same way," basketball player Scooter Terrien told the news outlet.
The boys' show of support was reportedly the start of a marvelous friendship.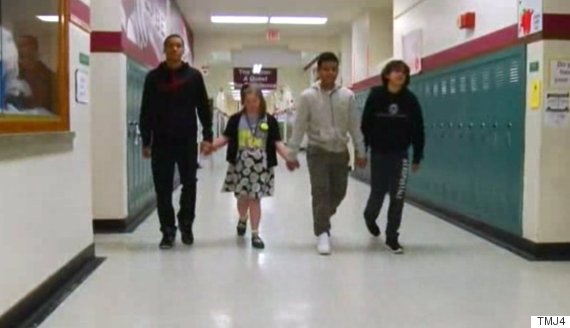 Now, Andrews never walks to class alone and is always involved in the introduction of the starting lineup for the boys basketball team. According to Kenosha News, Lincoln Middle School also renamed their gym "D's House" in her honor.
The teens' support has "been a godsend," Andrews' dad told the news outlet. "Those boys, I tried to talk to them in person, but I couldn't keep the tears back."
BEFORE YOU GO
PHOTO GALLERY
Random Acts Of Kindness