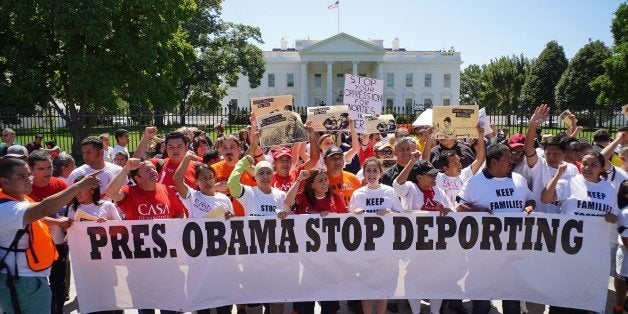 WASHINGTON -- Two of the most heralded aspects of President Barack Obama's executive actions on immigration are stalled in the courts, which means activists' efforts to sign up undocumented immigrants for relief are on hold as well.
It's a setback, but immigration advocates are determined to make sure the hard-fought victories of Obama's executive actions are not diminished by the legal hurdles -- or by a deportation apparatus that continues to churn.
"The situation that we find ourselves in is unfair. It has millions of people on hold," said Lorella Praeli, advocacy and policy director of the group United We Dream.
A federal judge is currently considering a lawsuit brought by 26 states over Obama's deportation relief programs, which he announced in November 2014. On Feb. 16, the judge blocked the programs from moving forward while the lawsuit is pending, and he announced Monday that he won't decide whether or not to reverse that decision until, at the earliest, after a hearing on March 19. The Justice Department asked an appeals court on Thursday to step in within 14 days and overturn the judge's ruling.
As a result, the administration cannot start its new program, Deferred Action for Parents of Americans and Lawful Permanent Residents, or DAPA, which was announced as part of Obama's package of executive actions. DAPA would grant work authorization to some undocumented immigrants who have lived in the U.S. for years and are parents of citizens or of legal permanent residents. The judge's ruling also delayed the planned expansion of Deferred Action for Childhood Arrivals, an existing program that gives work permits to certain undocumented immigrants who came to the U.S. as children.
Supporters of the stalled policies, from the White House down to community groups, say they are confident they will eventually be able to move forward. Sympathetic members of Congress and activists have continued to hold workshops to publicize the executive action programs and ensure people are ready to apply once they open. One of their goals is to keep undocumented immigrants from being afraid to sign up for DAPA and DACA when the time comes.
But immigration activists are also keeping their focus on the present, and making sure those with long-standing ties to the U.S. are not deported.

Praeli said that in spite of the judge's decision, there's still plenty to do.
"It gives us more time to dig into other parts of the announcement and to understand the problems in other areas," she said. "The new enforcement priorities -- how are they being implemented, who is getting apprehended, who is getting removed, what are the practices at the local level. We're busy in a different way."
Her group is operating a hotline to inform people about the executive actions and collecting stories of undocumented immigrants who would be eligible for relief under the stalled policies, but are instead being detained. Across the country, advocacy groups are continuing long-standing efforts to call attention to what they say are unfair deportation proceedings against established community members.
Immigrant advocacy groups are also pushing back on the way immigration enforcement has been carried out since the executive actions were announced. In addition to DAPA and the expanded DACA, Obama and Homeland Security Secretary Jeh Johnson in November also announced new prioritization policies for Immigration and Customs Enforcement that are aimed at "felons, not families." The idea is that convicted criminals, those who pose national security threats and recent border-crossers should be deported, while immigrants with long-standing ties to the U.S. should not face the imminent threat of deportation.
But the "felons, not families" construct is controversial. Many immigration advocates note that some people have criminal records only for immigration-related crimes, or are being targeted now for long-ago crimes for which they have already served their time.
The #Not1More campaign, a coalition of groups calling for fewer deportations, urged Obama this week to do more to stop police-ICE collaboration while the lawsuit over DAPA and expanded DACA is playing out. One of their concerns is that basing immigration enforcement practices on criminal enforcement is a bad idea, since immigrants often get profiled by police.
"We have a community that's already criminalized," said Erika Almiron, executive director of the Philadelphia group Juntos and a member of the #Not1More campaign. "We also have immigration law that's constructed on a criminal justice system that we know has been already disproportionately affecting our community negatively."
One of the policies included in Obama's executive actions was an attempt to respond to concerns about police-ICE collaboration. The president announced an end to the Secure Communities program, which asked local law enforcement to hold people whom they would otherwise release if ICE requested it. A new policy, called the "Priority Enforcement Program," is to be implemented in place of the controversial program.
Advocates applauded the death of Secure Communities, but many are concerned PEP could be more of the same. Last Friday, a coalition of groups held a press conference outside ICE headquarters in Washington calling for more transparency about the program. The activists have also requested more information on PEP through a Freedom of Information Act request.
On Thursday, Jessica Karp Bansal of the National Day Laborer Organizing Network issued a statement calling for the administration to stop "mining the local criminal justice system for deportations in order to meet its ill-conceived and self-imposed quota," and hand over more details about PEP before it becomes a failure like Secure Communities was.

"Without complete transparency and accountability for PEP -- which so far has been entirely lacking -- we are concerned that it, too, will become a dangerous dragnet that undermines the purposes of DAPA and unnecessarily perpetuates the pain caused by our broken immigration system," she said.
BEFORE YOU GO
PHOTO GALLERY
Why Latin Americans Really Come To The U.S.