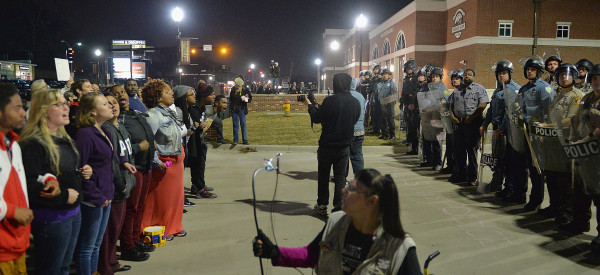 TOP STORIES
To get The Morning Email, HuffPost's daily roundup of the news, in your inbox, sign up here.
TWO POLICE OFFICERS SHOT DURING FERGUSON PROTESTS "Two police officers were shot outside the Ferguson Police Department just after midnight Thursday, police and eyewitnesses said. The shootings came during protests following the Ferguson police chief's resignation on Wednesday afternoon." The two officers reportedly suffered "very serious" injuries. [Ryan Reilly, HuffPost]

HILLARY CLINTON FOR 2016: 'TOO BIG TO FAIL' As the email scandal continues to engulf Clinton, the hard truth remains that Democrats' hopes for 2016 hinge on Hillary's candidacy. [NYT]
ANOTHER SECRET SERVICE SCANDAL "The Obama administration is investigating allegations that two senior Secret Service agents, including a top member of the president's protective detail, drove a government car into White House security barricades after drinking at a late-night party last week, an agency official said Wednesday." [WaPo]
YOUR RAISE MIGHT BEAT INFLATION THIS YEAR "Seventy percent of U.S. companies plan to raise pay by at least 3 percent, on average, this year, according to a survey of more than 500 U.S. chief financial officers conducted in the first three months of the year and released Wednesday by Duke's Fuqua School of Business and CFO Magazine." [Emily Peck, HuffPost]
IMF APPROVES $17.5 BILLION LOAN FOR UKRAINE The money is intended to save the embattled country from complete economic collapse. [AP]
U.S.-TRAINED IRAQI UNITS BEING INVESTIGATED FOR WAR CRIMES "U.S.-trained and armed Iraqi military units, the key to the American strategy against ISIS, are under investigation for committing some of the same atrocities as the terror group, American and Iraqi officials told ABC News. Some Iraqi units have already been cut off from U.S. assistance over 'credible' human rights violations, according to a senior military official on the Pentagon's Joint Staff." [ABC News]
MAPPING SYRIA, FOUR YEARS INTO A CIVIL WAR Take a look at the impact of a conflict that has left at least 200,000 dead and forced half of the country's citizens to leave their homes. [NYT]
THE NCAA MADE ALMOST ONE-BILLION IN 2014 And no, college athletes still don't get paid. [Maxwell Strachan, HuffPost]
WHAT'S BREWING
POWDERED ALCOHOL COULD HIT SHELVES BY SUMMER Meet the "Kool-Aid of teen binge drinking." [WaPo]
BEHIND THE UBER-TAXI WAR "The goal is to bring attention to what taxi companies say are Uber's unsafe and illegal business practices. Uber's response: The taxi industry is basically a cartel, and the cartel wants to protect its turf." [Bloomberg]
YOU CAN NOW PLAY 'CARDS AGAINST HUMANITY' ONLINE Prepare to give away pieces of your soul online all day long. [HuffPost]
TINA FEY, HOST OF 'THE DAILY SHOW?' The latest poll by Quinnipiac University National Poll shows Fey as the favorite to take over for Jon Stewart. [HuffPost]
SORRY, BOYS Supermodel Bar Rafaeli is engaged. [HuffPost]
HOW TO MAKE GOOD RAMEN And no, that's not the instant kind. [First We Feast]
'THE DAY I BROKE MY BABY' "I would also learn that these incidents happen more often than anyone talks about. As I sat holding my son in the hospital waiting for scans to confirm what I feared most -- that he had a skull fracture -- I was told repeatedly by nurses and doctors that they see this all the time. I assumed they were trying to comfort me when I felt most alone, most inept. But they weren't." [WaPo]
EXERCISE AT WORK Without ruining your hair and makeup. [HuffPost]
WHAT'S WORKING
JEAN VANIER WINS TEMPLETON PRIZE "On Wednesday, in honor of Vanier's five decades of advocacy for people with disabilities, he is being named the 2015 recipient of the Templeton Prize. The $1.7 million award is given annually by the Templeton Foundation to a person who 'has made an exceptional contribution to affirming life's spiritual dimension, whether through insight, discovery, or practical works.'" [HuffPost]
ON THE BLOG
REAL MARRIAGE VOWS "Yep, it's a little tougher to promise 'in fatness and in emaciation, even if my mother hates you' than it is to promise 'in joy and in sorrow, forsaking all others.' But which is really braver, and what promise more meaningful?" [HuffPost]
BEFORE YOU GO
~ Money's evolution, in five minutes.
~ The state of Alabama is looking into whether or not Harper Lee is a victim of "elder abuse."
~ The latest in ads that look like films.
~ Meet the Harry Potter precursor.
~ Dakota Johnson and Jamie Dornan want a raise for the sequel to "Fifty Shades of Grey."
~ Richard Glatzer, the writer-director of "Still Alice," has died. He was 63.
~ Snapchat's worth $15 billion now, up from $10 billion last year.
~ The Stark sisters are going to look a bit different on this season of "Game of Thrones."
~ These boys stood up for their favorite cheerleader, who has down syndrome, when bullies started chanting mean things about her.
~ In heart attack waiting to happen news, here's a Krispy Kreme donut covered in bacon.
~ Millennials basically don't have any skills.
~ Listen to Kanye's song, "Awesome," that he wrote for Kim.
~ All the "Downton Abbey" seasons six hints.
~ There's growing backlash against the controversial format for next season's "Bachelorette."
~ Oprah could be headed to "Empire."
~ And Sarah Michelle Gellar's princess rap battle may make Cinderella your new favorite Disney princess.
Send tips/quips/quotes/stories/photos/events/scoops to Lauren Weber at lauren.weber@huffingtonpost.com. Follow us on Twitter @LaurenWeberHP. And like what you're reading? Sign up here to get The Morning Email delivered to you.