Being a mom of three herself, what advice would author Arlene Alda give to young mothers? Arlene says, "Be relaxed! It's okay if your kids get chocolate on their clothing, or if they don't go to sleep at 7:30 and they're up until 11 o'clock at night." This is something that Arlene says took her some time to learn, since the anxiety of what to do and how to do it is something that comes along with parenthood. Make sure that you take the time to enjoy your kids -- kids are terrific!
Get your copy of Arlene's latest book, Just Kids From The Bronx, on sale now!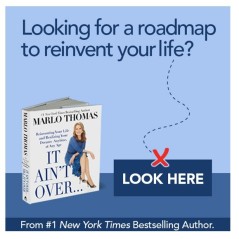 Add Marlo On Facebook:
Follow Marlo on Twitter:
Sign up to receive my email newsletter each week - It will keep you up-to-date on upcoming articles, Mondays with Marlo guests, videos, and more!