How can you reinvent yourself? Author Arlene Alda says that anyone can reinvent themselves if they just pause and try to feel out what it is that they would like to do, if they could do it. If you can get to that space within yourself, one little step will lead to another step. For instance, if you want to be a chef, start doing one great little dish that you like, and share it with someone! Think about what it is you like to do, and find a way to do it. Confidence is a broad bag. If you start to do something, confidence will come back to you!
Get your copy of Arlene's latest book, Just Kids From The Bronx, on sale now!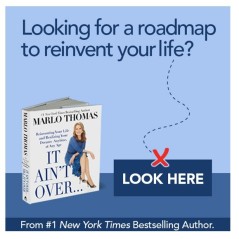 Add Marlo On Facebook:
Follow Marlo on Twitter:
Sign up to receive my email newsletter each week - It will keep you up-to-date on upcoming articles, Mondays with Marlo guests, videos, and more!