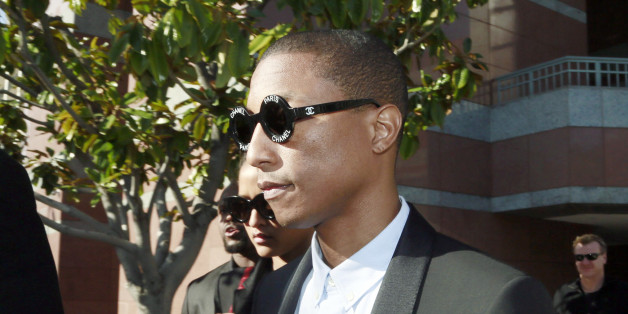 A court is awarding Marvin Gaye's family $7.3 million in the "Blurred Lines" lawsuit, and now another chart-topper might come under fire: Pharrell Williams' "Happy." YouTube videos have pointed out similarities between the track and Gaye's 1965 single, "Ain't That Peculiar," for months, but now the family says there may be grounds for legal action.
"I'm not going to lie. I do think they sound alike," Gaye's daughter, Nona Gaye, told "Entertainment Tonight" correspondent Nischelle Turner in an interview. His ex-wife Janis also said, "I heard the mash-ups -- but I didn't really need to hear them. I know 'Ain't That Peculiar' and I've heard 'Happy.'" No charges have been filed.
Since the verdict was announced, music and legal critics have said the decision set "a horrible precedent" in the music industry when it comes to writing songs inspired by earlier artists. LA Weekly's Andy Hermann came out with a story headlined, "'Blurred Lines' Has Ruined the Entire Music Industry," while Slate claimed it "may end up cutting off a vital wellspring of creativity in music."
For reference, listen to a mashup of "Happy" and "Ain't That Peculiar":
BEFORE YOU GO
PHOTO GALLERY
Marvin Gaye