What are some signs that it's time to reinvent yourself? Author Arlene Alda says that sometimes these signs present themselves in different ways. For example, Arlene was once a concert clarinetist. When she got married, moved to a new city and started a family, she became unable to travel as much as her position as a concert clarinetist required. This was a sign that it was time for Arlene to pursue something new. If you start feeling like you're stuck, and you wake up and are not excited to be doing what you're doing, that's also a good indicator that it's time to move on. Ask yourself, how flexible can you be? How creative can you be? Then find a way to make a life for yourself that is different than the one you had.
Get your copy of Arlene's latest book, Just Kids From The Bronx, on sale now!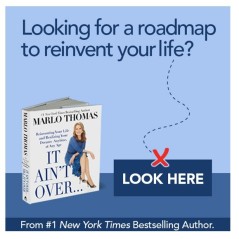 Add Marlo On Facebook:
Follow Marlo on Twitter:
Sign up to receive my email newsletter each week - It will keep you up-to-date on upcoming articles, Mondays with Marlo guests, videos, and more!