Author Arlene Alda has been married to her husband, actor Alan Alda for 58 years -- but she says that she remembers their early years together like it was just yesterday! What's Arlene's secret for maintaining a long-lasting marriage? Arlene says, marriage really is a team effort. If you turn yourself inside out to please the other person, you're going to end up like a pretzel! You have to be able to communicate with one another, and to negotiate with one another. Have a very short memory when it comes to the disagreements that you have, so that you're not always arguing about the same old things. Arlene says that humor is another important component to a long, happy marriage. Be able to laugh together!
Get your copy of Arlene's latest book, Just Kids From The Bronx, on sale now!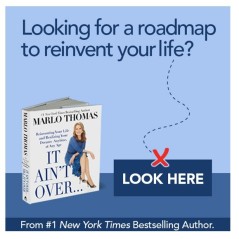 Add Marlo On Facebook:
Follow Marlo on Twitter:
Sign up to receive my email newsletter each week - It will keep you up-to-date on upcoming articles, Mondays with Marlo guests, videos, and more!