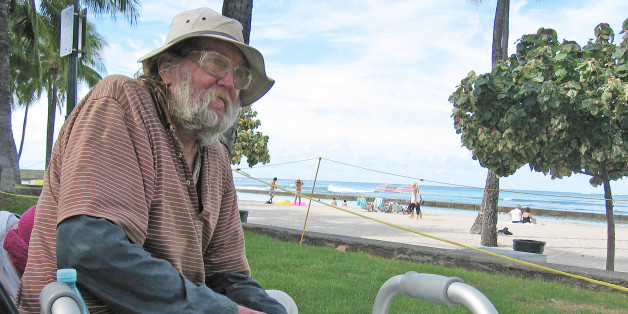 The same Hawaii tourist hot spot that recently declared a "war" on homelessness is trying out a peaceful approach to get people off the streets.
Under pressure from the tourism industry to curb Waikiki's growing homeless population, government officials were quick to employ criminalization tactics and even violent acts to tackle the issue. State Rep. Tom Brower (D.) went so far as to take a sledgehammer to homeless people's shopping carts back in 2013.
Now, a local aid organization is demonstrating that treating homeless people in Honolulu's sought after beach neighborhood with dignity is actually the most effective way to empower them, and help them transition from the streets into stable housing.
The Institute for Human Services (IHS) in Waikiki launched a shuttle program last month that picks homeless people up and transports them to the shelter where they can get a hot meal and a shower, KITV4 reported.
The goal of the service is to show wary homeless people that the shelter experience can be a positive one.
Homeless people in Waikiki share the same concerns about local shelters with people on the streets in other U.S. cities.
They worry about bed bugs, violence, theft and rape, the Honolulu Civil Beat reported last year.
"They come with negative preconceptions and they leave with positive experiences," Kimo Carvalho, community relations director at IHS, told KITV4.
Within three weeks, the shuttle program was able to get six participants to stay at the shelter. It set a goal of getting 120 homeless people to sign on, according to the news outlet.
But while advocates say the shuttle program has enormous potential, they still have concerns about the affordable housing crisis that is leaving the area's homeless population without permanent shelter options.
A 2014 point-in-time count found that there were 4,712 homeless people on the island of Oahu, where three quarters of Hawaii's homeless population resides, according to the Economist. Hawaii has had the highest population of homeless people per capita in the U.S., four years in a row, according to data compiled by Movoto, a California-based real estate firm.
And while shelters, like IHS, are available, reasonably priced housing options are not.
The median monthly rent for a two-bedroom apartment in Honolulu is more than $1,800, the Economist reported in December.
Because of the skyrocketing rents, IHS is also focusing its efforts on relocating members of Waikiki's homeless population.
Part of its $1.3 million homelessness effort will include flying 120 people back to the mainland. Those people will undergo a vetting process to ensure they have a place to go once they arrive, Civil Beat reported in November.
Proponents see the plan as an effective way to dissuade homeless people from moving to Waikiki. But opponents say it's antithetical to the area's welcoming identity.
"I do think that conversation will have to touch on…what is aloha and what is our message going to be nationally," advocate Colin Kippen told Civil Beat. "How will that message be delivered in a way which preserves the essence of what aloha is?"
BEFORE YOU GO
PHOTO GALLERY
Haunting Photos Of Vets On The Street Underscores Homelessness Issue