Pristine fossils recently unearthed in southeastern Morocco have been identified as the remains of a bizarre sea creature that -- with a body that spanned about seven feet -- was once the largest animal on Earth.
(Story continues below image.)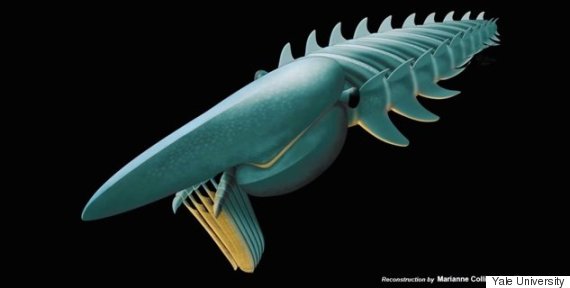 An illustration of the newly identified species, Aegirocassis benmoulae.
The fossils date back 480 million years to the Palaeozoic Era and reveal that Aegirocassis benmoulae was an anomalocaridid, an extinct kind of arthropod -- which is a group of species that includes crustaceans, arachnids, and insects.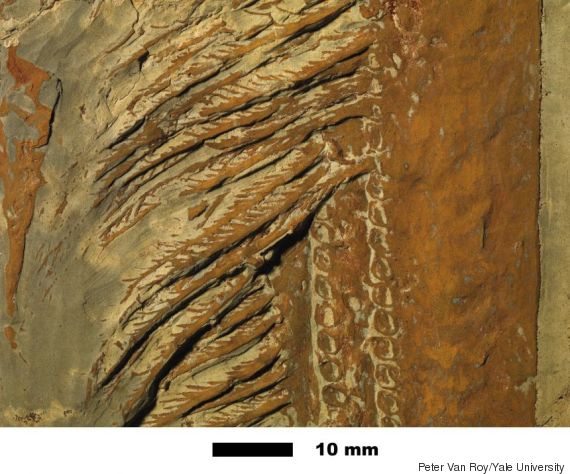 Close-up of Aegirocassis filter-feeding 'net' fossil.
One weird-looking animal. The animal sported a long head, a segmented body, gills on its back, and a very unusual set of fins.
"Aegirocassis is a truly remarkable looking creature," Dr. Derek Briggs, a Yale University paleontologist and co-author of a paper about the discovery, said in a written statement. "We were excited to discover that it shows features that have not been observed in older Cambrian anomalocaridids — not one but two sets of swimming flaps along the trunk, representing a stage in the evolution of the two-branched limb, characteristic of modern arthropods such as shrimps."
Not as scary as he looks. Despite its size and fearsome looks, Aegirocassis benmoulae probably wasn't the creatures of your nightmares.
"Given the huge size of Aegirocassis and its very alien appearance, I assume most people would probably be terrified if they'd encounter it while swimming," Dr. Peter Van Roy, a paleontologist at Ghent University in Belgium and lead author of the paper, told Reuters. "However, contrary to almost all other anomalocaridids which were active predators, our animal would have been a very peaceful guy."
The paper was published online in the journal Nature on March 11, 2015.
BEFORE YOU GO
PHOTO GALLERY
Extinct Prehistoric Animals