You're going to love my very special Mondays with Marlo guest, Arlene Alda. Reinventing ourselves is a big topic here on our site, and I can't think of a better person to talk about how to do it than my good friend Arlene. She has started over and over and over again! First she was a professional clarinet player, then she took time off to raise her three daughters. Later she became a photographer, and she's also the author of over 19 books! Not to mention, she makes up one half of the longest and happiest marriages in show business, with the terrific Alan Alda. Arlene's latest book, Just Kids From The Bronx features her interviews with celebrities who made it big after growing up in the borough (Al Pacino, Neil deGrasse Tyson and Colin Powell, to name a few).
Get your copy of Arlene's latest book, Just Kids From The Bronx, on sale now!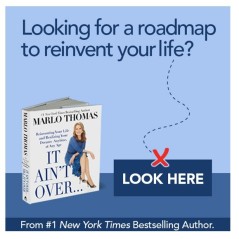 Add Marlo On Facebook:
Follow Marlo on Twitter:
Sign up to receive my email newsletter each week - It will keep you up-to-date on upcoming articles, Mondays with Marlo guests, videos, and more!