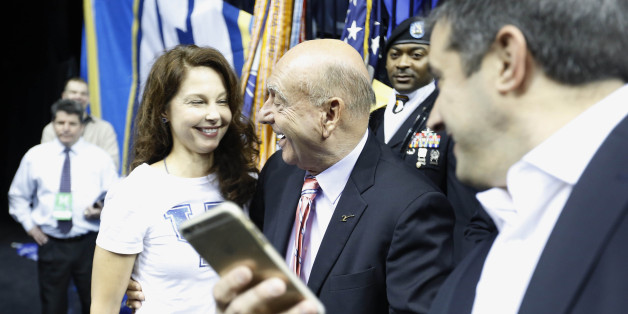 There's just some things you can't unsee. Add Dick Vitale kissing actress Ashley Judd (a noted Kentucky fan and alum) ahead of the Wildcats' SEC tournament final on Sunday to that list.
We get it, emotions are running high heading into March Madness, Kentucky was on its way to eventually extending its 34-0 season, which would lead to its top seeding in the NCAA Tournament.
But, think of the children!
Dickie V gives @AshleyJudd a good luck smooch prior to @KentuckyMBB 's game with the Hogs. #SECMBB #AllKentucky #bbn pic.twitter.com/CLs6ustCaj

— UK Photo (@UKphotogs) March 15, 2015
Vitale shared a much less cringeworthy snap of him and Judd on his Instagram account.
Guess it must've worked because Kentucky won the title over Arkansas 78-63. Judd chalked the smooch up to "crazy joy."
I think both @DickieV & I are feeling the crazy joy of @marchmadness & the greatness of this KY team. https://t.co/QrTy6GPWin

— ashley judd (@AshleyJudd) March 15, 2015