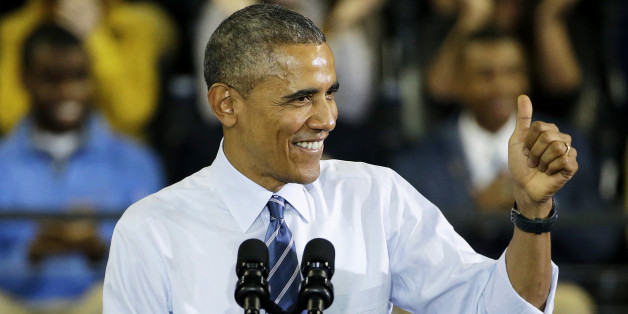 WASHINGTON -- More than 16 million Americans gained health coverage because of the Affordable Care Act, mainly via the law's health insurance exchange and Medicaid expansion, according to an analysis published Monday by the Department of Health and Human Services.
The government estimate is consistent with numerous surveys taken over the past two years. The Health and Human Services report issued Monday is based in part on findings from the polling company Gallup, which found the uninsured rate has fallen from 20.3 percent in October 2013, when Obamacare sign-ups began, to 12.3 percent during the first quarter of this year.
The latest figures stand as more evidence that Obamacare is achieving one of its core goals of reducing the number of uninsured Americans, even as the Affordable Care Act remains embattled in Congress and faces an uncertain future at the Supreme Court.
"Since the passage of the Affordable Care Act almost five years ago, about 16.4 million uninsured people have gained health coverage -- the largest reduction in the uninsured in four decades," Health and Human Services Secretary Sylvia Mathews Burwell said in a written statement accompanying a new report from the department.
These gains in the national uninsured rate could be reversed. The Supreme Court heard oral arguments this month in a lawsuit, King v. Burwell, that alleges the Affordable Care Act's tax credit subsidies are only available in 13 states and the District of Columbia, which operate their own health insurance exchange marketplaces. The federal government set up the exchanges in 34 states, and millions of residents would lose their subsidies if the high court rules for the plaintiffs. The Rand Corp. estimates this would result in 9.6 million people becoming uninsured as their health insurance becomes too expensive and the markets in those states destabilize.
According to the Health and Human Services report, 14.1 million people gained health coverage by securing private insurance or signing up for Medicaid through an exchange. An additional 2.3 million young adults got coverage under an Affordable Care Act provision allowing those under 26 years old to remain on their parents' insurance policies.
The second open enrollment period for the health insurance exchanges officially closed in February, and federal officials reported last week that sign-ups for private coverage had reached nearly 12 million people. Enrollment reopened Sunday in states with federally run exchanges for people who learn when they file their taxes that they owe a penalty for not having coverage last year. Most other states are also allowing people in these circumstances to access their exchanges.
In addition to the millions who obtained private health insurance, almost 11 million more people are receiving coverage from Medicaid or the Children's Health Insurance Program compared to October 2013, when the first Obamacare sign-up period began. Twenty-eight states and the District of Columbia adopted the Affordable Care Act's more generous eligibility standards for Medicaid, while the remainder have refused to do so.
The federal government will spend $1.2 trillion over the coming decade expanding health coverage, the Congressional Budget Office projected this month. That's down 11 percent from a budget estimate issued in January, and even lower than earlier CBO predictions.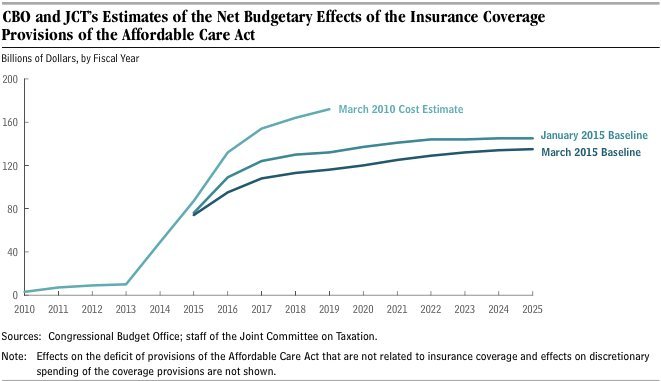 Source: Congressional Budget Office and Joint Committee on Taxation
BEFORE YOU GO
PHOTO GALLERY
The Second-Term Curse