This soccer player's goal meant so much more than just a point for his team.
After scoring a goal during a match against German professional soccer team Schalke 04 on Saturday, player Änis Ben-Hatira put on a Spider-Man mask to celebrate. Though donning the mask may seem like a strange way to acknowledge a goal, the Hertha Berlin midfielder later explained that the celebration was part of a promise he made to an 8-year-old boy named Jannik, who has cancer.
"It was about my little friend Jannik, who has developed cancer," Ben-Hatira told Sport1, according to ESPNFC. "I promised him that if he gets through the first part of his chemotherapy he can take to the field [as a mascot] with me. I also promised him to put on the Spider-Man mask should I score."
The soccer player introduced his friendship with Jannik on social media a few months ago, saying he would keep the boy in his thoughts and visit him regularly as the child underwent chemotherapy. Last week, the soccer player shared an update on Jannik's condition, saying that the young patient was making progress.
Though Bundesliga, the soccer league to which Hertha Berlin belongs, has declared that any player who celebrates with a mask will be penalized with a yellow card, Ben-Hatira kept his promise to Jannik -- and received the punishment, ESPNFC reported.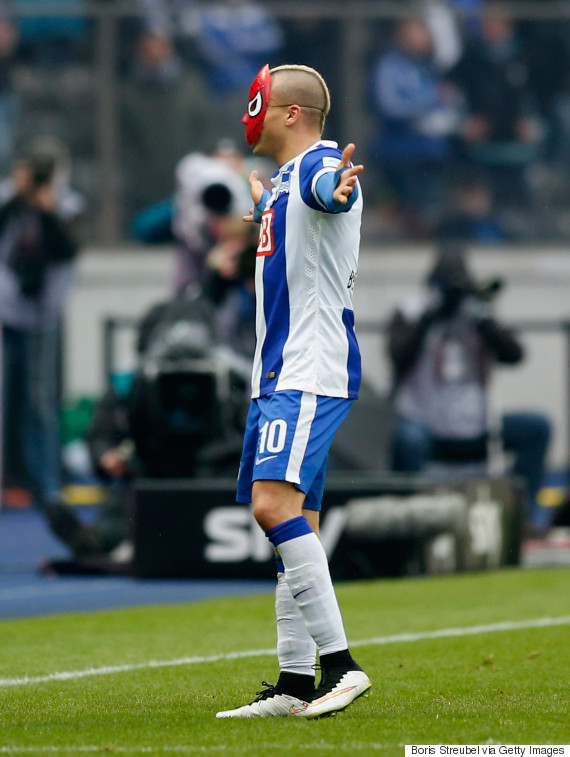 Ben-Hatira says that Jannik is deserving of a kind gesture.
"Even [though] he is a little man, he fights like Superman against his illness," the soccer player wrote on his Facebook page. "Jannik puts bravery on another level and I am totally impressed by his will and strength."
BEFORE YOU GO
PHOTO GALLERY
Sheep Playing Soccer