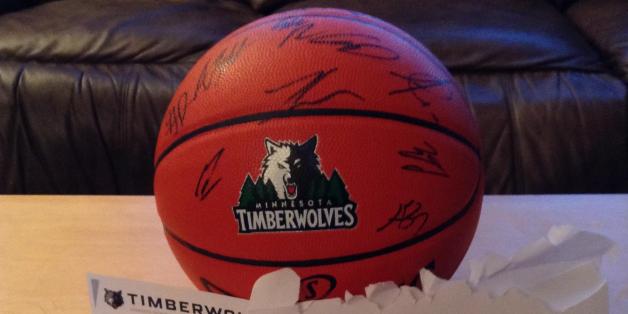 Connor Urcuyo needed a new NBA team to cheer on, so he decided to reach out to all 30 of them. He only heard back from one, but what he got was more than he could have imagined.
The Bellingham Herald reports that Connor's love for basketball began at a young age. Since he was born in the Los Angeles area, the 16-year-old started as a Lakers fan, but became a Seattle SuperSonics fan when his family moved to Bellingham, Wash., in 2002. When the SuperSonics left in 2008 to become the Oklahoma City Thunder, Connor was left with no team to cheer on.
To solve the problem, he decided to send letters to every NBA team. Each letter contained a drawing of the team's logo as well as a request for the teams to explain why Connor should be their fan.
"I wanted a team that would care about their fans," he told The Bellingham Herald.
Connor only heard back from one of the 30 teams, but he got more than just a letter. The Minnesota Timberwolves sent Connor a list of 10 reasons why they should be his favorite team along with a basketball signed by a dozen players.
The team also called Connor and his family to invite them to see his new favorite team on the court. They'll be seeing the Timberwolves play in Minneapolis during an all-expenses-paid trip on April 3.
Connor might have had to send out letters to 30 teams to only hear back from one, but what he got from the Timberwolves was pretty much a slam dunk.
Follow HuffPost Teen on
Twitter |
Instagram |
Tumblr |
Pheed |
BEFORE YOU GO
PHOTO GALLERY
5 NBA Players Paid More Than LeBron