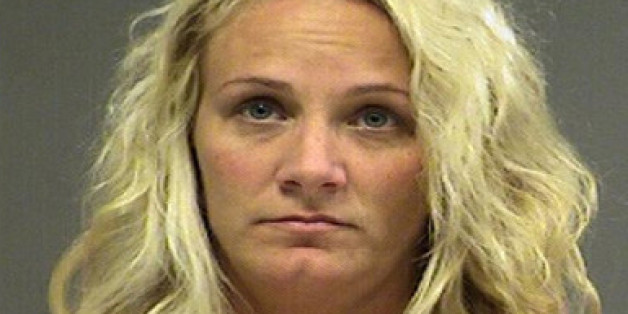 One of two former workers at an Oregon jail accused of repeatedly having sex with an inmate says a female sheriff's deputy also had sex with the same man.
The allegation came after a judge sentenced Jill Curry, 38, to more than four years in prison on 28 counts, according to Oregon Live. She pleaded guilty last month to unlocking a series of three doors a total of 13 times so that an inmate, Jang-Li Delgado-Galban, 25, could have sex with her in a supply closet.
In a statement released just hours after her appearance, Curry implicated an unnamed sheriff's deputy of having a sexual relationship with the same inmate.
"(The inmate) then told me he had done this before with a deputy several times. He explained to me that it happened when he was in custody in 2010. He described exactly how they got away with it... He told me she explained to him about the cameras and mailed him money when he went to prison," Curry wrote.
The Washington County Sheriff's Office says it is investigating the allegation.
When she appeared for her sentencing Monday, Curry cried and told the court that her crumbling marriage made her vulnerable to advances by Delgado-Galban, a gang member doing time on assault charges.
Curry tearfully apologized for compromising security at the jail, telling assembled Washington County Sheriff's deputies, "I exposed you guys to danger that I didn't even think about," because she was at a low point in her life.
Curry told how her relationship with the inmate began as chatter through the intercom, and eventually turned sexual in nature. She said that her marriage was in bad shape and that Delgado-Galban seduced her.
Presiding Judge Charles Bailey said he found Curry's explanation "stupid and ludicrous," and accepted the four-year sentence recommended by prosecutors.
Curry and fellow Washington County Jail employee Brett Robinson, 32, were charged with custodial sexual misconduct last year. Robinson's trial is set to begin next month. Accusations against her came to light as authorities investigated Curry.
Both women worked as jail services technicians, and had access to various areas of the jail, including booking, inmate units and the control center.
WCSO Sergeant Bob Ray told the Oregonian that the women "took advantage of specific locations at specific times" to avoid detection.
Like Us On Facebook |

Follow Us On Twitter |

Contact The Author
BEFORE YOU GO
PHOTO GALLERY
The Most Outrageous Stories Of Police Misconduct In 2013