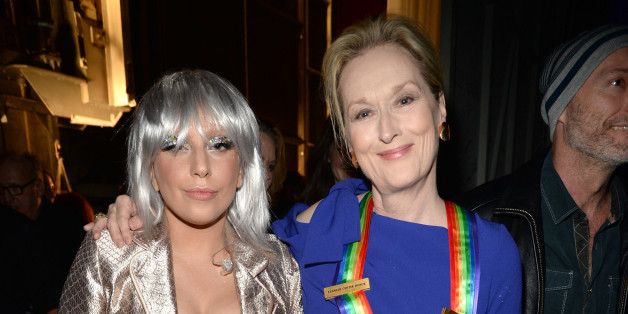 Meryl Streep made headlines for her recent, impromptu support of equal wages. Now she's taking calculated steps to push for the world's most underserved women and girls to be lifted out of poverty.
Together with Beyonce, Lady Gaga, HuffPost founder Arianna Huffington and 32 other activists, Streep signed an open letter denouncing the fact that poverty disproportionately affects females. The powerful missive, released by the ONE campaign, called on world leaders to acknowledge the injustice and pledge to do something about it as the world commits to ending poverty in the next 15 years.
"Put simply, poverty is sexist," the letter reads, "and we won't end it unless we face up to the fact that girls and women get a raw deal, and until leaders and citizens around the world work together for real change."
The letter was released on International Women's Day when the U.N. published a lengthy report about the frustrating delays women have faced over the past 20 years in trying to achieve full equality.
Just as the U.N. report did, the ONE petition elucidated how women and girls need improved access to education, maternal health options, land rights, bank accounts and other basic rights that enable a person to lead a healthy, independent and financially sound life.
Despite a major global push, 31 million girls of primary school age aren't getting an education, according to UNESCO, for example.
Advocates have long agreed that education is the No. 1 guarantor of wealth and status. For girls, it also comes with the reduced risk for infant mortality, contracting HIV and being forced into child marriage.
Women are also struggling across the globe to get access to the resources that will enable them to undertake the jobs that they've already proved to excel at.
Half the world's farmers are women, yet many lack access to land and modern tools.
If they had the same rights as their male counterparts, they could produce enough food to alleviate hunger for 100 to 150 million people, according to the Food and Agriculture Organization of the U.N.
To effectively cut poverty figures, ONE has impressed the need to make underserved girls and women the central focus in forming the new development goals. The organization has also stressed making better, targeted investments in education, health and economic empowerment.
"If we get this right, we could help lift every girl and woman out of poverty by 2030 -- and by doing so we will lift everyone," the ONE letter declared. "Get this wrong and extreme poverty, inequality and instability might spread in the most vulnerable regions, impacting all our futures."
BEFORE YOU GO
PHOTO GALLERY
Oscars Red Carpet 2015