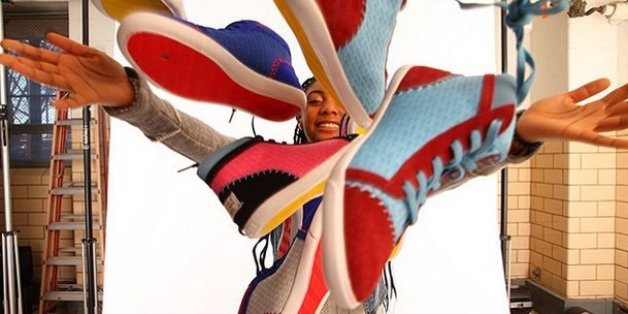 Mo'ne Davis is unstoppable.
The 13-year-old baseball superstar has stepped off the pitcher's mound to design a line of footwear that will benefit underprivileged girls. The sneakers are in a collaboration with M4D3 (Make a Difference Everyday), and a percentage of the proceeds from sales will go toward Because I am a Girl, an initiative that combats child poverty and promotes gender equality on a global scale.
"I never thought at the age of 13 I'd be a role model, but having young girls look up to me is pretty cool," Davis said in a M4D3 news release. "If I can inspire them to reach their goals, that would be even cooler."
The entire line of Mo'ne's footwear is currently available for preorder on M4D3's website. The sneakers mimic the stitching of a baseball and come in a variety of colors and styles. Each shoe is stamped on the heel with a "Throw Like a Girl" tag, as shown on the company's Instagram.
In February, M4D3 ambassador Lisa Zbitnew released a statement about the shoe's design, saying, "We are designing a shoe that represents who [Mo'ne] is; contemporary, spirited and athletic, but at the same time being very caring towards other girls and young women that are vulnerable around the world."
Mo'ne's impact has extended well beyond the diamond since she made headlines last summer. In less than a year, Mo'ne went to the Little League World Series with her Philadelphia baseball team, became the first girl in the 75 years of the event to pitch a shutout game, was named the 2014 SportsKid of the Year by Sports Illustrated Kids and was the cover star of Sports Illustrated in August. And her memoir was released on Tuesday, WPVI reports.
Her shoes are a pair we'd want to walk a mile in.
BEFORE YOU GO
PHOTO GALLERY
21 Photos That Showcase Women's Athleticism