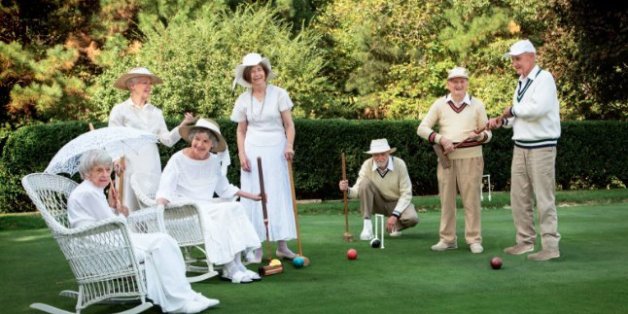 "Downton Abbey" fever has quickly spread, spurring everything from Victorian high teas to a beauty range. But some seniors took it one step further and decided to play dress-up and recreate the pomp and grandeur of Downton and the Granthams, all for a good cause.
The residents of North Carolina's Carolina Meadows Retirement Community, many of whom are dedicated watchers of the hit series, decided to participate in their local public television channel, UNC-TV's, annual fundraiser by supporting their favorite show.
The residents came up with the idea of a photo shoot and were showered with community support for the three-month project, receiving costumes and tuxedos, free of charge, and also the help of photographer Jack Benjamin. They spent countless hours trying to get every detail right, even making handmade jewelry and touching up an antique car to match the period.
The photos were unveiled to the public in a Downton-themed manor-style dinner, to help raise money for the fundraiser, which ends Sunday.
"Everything was so professional looking," resident Albina Giardino said in a release. "Everyone looked so happy in the photos and that made us feel happy," said resident Chuck Giardino.
Take a look through the photos yourself and we promise you'll want to play dress-up and have a cuppa yourself.
PHOTO GALLERY
Retirement Community Seniors Recreate Portraits From Downton Abbey
BEFORE YOU GO
PHOTO GALLERY
Downton Abbey Series 5 Finale