Spirit Airlines, the 8th most hated company in America, is widely disliked for good reason. Aside from charging hidden fees for everything under the sun (like buying a bottle of water), the airline also likes to capitalize on ill fortune and make promotional deals out of it -- like the celebrity nude picture leak last year.
For their latest promotion, the airline is causing a stir with a new "69" deal to celebrate the 69th plane in Spirit fleet. The ad is about as inappropriately worded as you can imagine. See below: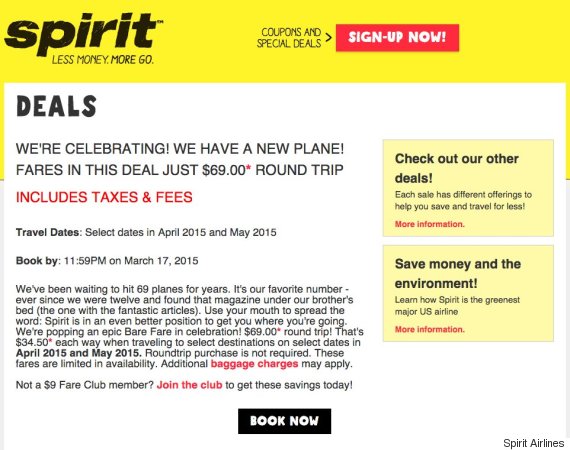 The smaller print reads:
We've been waiting to hit 69 planes for years. It's our favorite number - ever since we were twelve and found that magazine under our brother's bed (the one with the fantastic articles). Use your mouth to spread the word: Spirit is in an even better position to get you where you're going. We're popping an epic Bare Fare in celebration! $69.00* round trip!
When asking if the ad was inappropriate, Spirit Airlines Director of Corporate Communications Paul Berry said in an email, "Not at all. I believe it is different than what other airlines would do. It's provocative, irreverent, and supposed to be controversial."
For an airline that raises bag fees around the holidays and makes fun of bullying, we wouldn't expect Spirit Airlines to position itself any other way.
BEFORE YOU GO
PHOTO GALLERY
Airlines With Rudest Flight Attendants