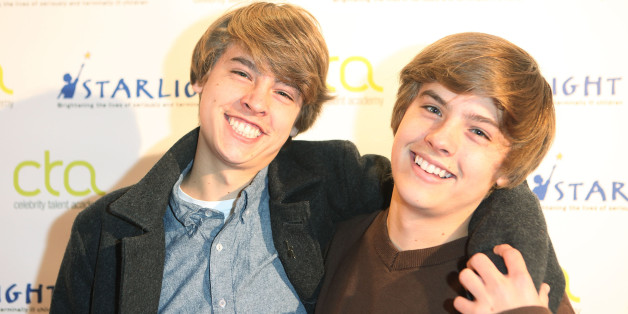 On March 18, 2005, a set of twins landed on our television screens in a new show about the many adventures of life in a hotel. That's right. It's been 10 years since Dylan and Cole Sprouse stole our hearts in the first episode of "The Suite Life of Zack and Cody."
From entering beauty pageants to letting a robot loose in the lobby, the twins and their shenanigans at the Tipton Hotel had us laughing even when they went out to sea in the spinoff "The Suite Life on Deck." Since then, Dylan and Cole have taken a break from acting and have kept busy with classes at NYU. Along the way, they've both racked up more than 1 million Twitter followers. Now, we're celebrating the 10-year anniversary of their show with 10 of their best Twitter moments -- check 'em out, below.
1. When Dylan let us in on what Cole really watches on Netflix.
Hmm alright. @colesprouse pic.twitter.com/agj78D1MAJ

— Dylan Sprouse (@dylansprouse) January 9, 2014
2. When Cole finally made us understand why #AlexFromTarget looked so familiar.
Looks like someone finally found our triplet Alex at target.
Keep workin hard brother! pic.twitter.com/CA67kozkJS

— Cole C. Sprouse (@colesprouse) November 3, 2014
3. When Dylan asked this really valid question.
Question to all people who wear hats sideways! What happened in your life for you to start doing that?

— Dylan Sprouse (@dylansprouse) October 2, 2014
4. When Cole came up with this awesome "Suite Life" spinoff. And by awesome, we actually mean totally terrifying.
American Horror Story: Tipton Hotel

— Cole C. Sprouse (@colesprouse) February 27, 2015
5. When Dylan acknowledged Zack and Cody fan fiction and probably shut down Tumblr in the process.
My biggest secret? I'm the author of all Zack and Cody fanfic'.
every. last. one.

— Dylan Sprouse (@dylansprouse) February 27, 2014
6. When Cole came up with an awesome poster for a "Zack and Cody: Where Are They Now?" special.
Do you remember zack and cody??? Well this is them now!! pic.twitter.com/iTOAfx5TS0

— Cole C. Sprouse (@colesprouse) February 26, 2015
7. When Dylan found his celebrity twin -- literally.
My celebrity look alike pic.twitter.com/EfFv6JEdRl

— Dylan Sprouse (@dylansprouse) September 25, 2013
8. When Cole shared this moment. Twin game so strong.
"Yes hi, we'd like the same coffee, the same meal, and we'd like to split the check please." ~Dylan and I, trying not to act like twins.

— Cole C. Sprouse (@colesprouse) July 22, 2014
9. When Dylan just had one tiny request when it came to being Photoshopped.
If you're going to photoshop me in new pics, at least give me chest hair...

— Dylan Sprouse (@dylansprouse) December 23, 2013
10. When Cole pretty much spoke to our soul.
That face when the mexican delivery joint gives me three forks as if I'm feeding a family. #ThisIsAll4Me #DontPlay #illEatTheForksToo

— Cole C. Sprouse (@colesprouse) April 18, 2014
Bonus:
This amazing Twitter exchange between the guys and their co-star, Ashley Tisdale. #SuiteLifeReunion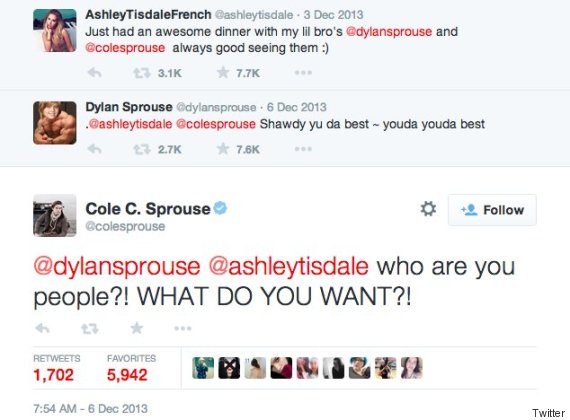 Shout out to Dylan and Cole for being such national treasures.
Follow HuffPost Teen on
Twitter |
Instagram |
Tumblr |
Pheed |
BEFORE YOU GO
PHOTO GALLERY
Disney Channel Stars Give Thanks