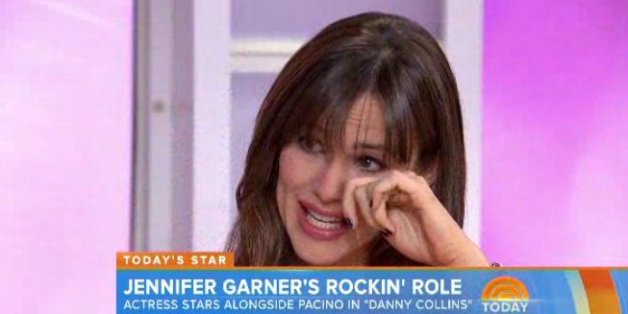 If you didn't already think Jennifer Garner was the gem of the earth, this will get you on board.
The actress was busy promoting her new movie "Danny Collins" on the "Today" show when host Savannah Guthrie shifted gears to Garner's recent photo shoot with her mom and sisters for Southern Living magazine. That shift in conversation got Garner all verklempt and she began crying as she discussed the importance of that day with her family.
"It makes me cry to see their faces, so I won't look," she said as a photo from the shoot flashed on the screen. "There's just nothing like sharing the spotlight or anything else with your sisters and your mom," she added, choking back tears.
Garner continued talking about the magazine spread, but just couldn't stop crying.
"I'm sorry! It's because of those babies and Leah. Still, I just can't take it," she said, referencing previous segments that made her emotional. "The 'Today' show is too tough for me!"
Guthrie assured her that everyone knows she "has a heart of gold, and that's your problem." Even Matt Lauer chimed in, saying the "Today" hosts just put her on the list of "best guests ever."
And just in case you were wondering, Garner added that Ben Affleck and their three kids are "all really good." Phew.
Watch the full clip below:
Visit NBCNews.com for breaking news, world news, and news about the economy
BEFORE YOU GO
PHOTO GALLERY
Jennifer Garner Quotes