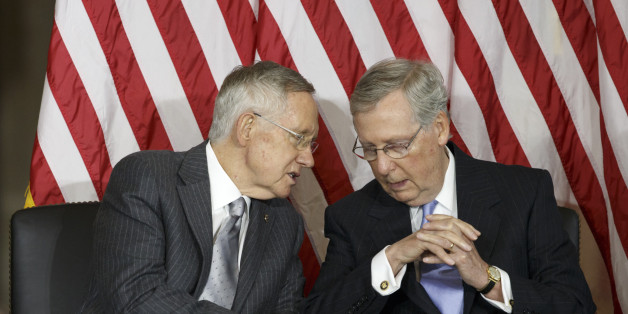 While running for re-election last year, Sen. Mitch McConnell (R-Ky.) pledged to allow more votes on amendments to bills if he became Senate majority leader. It was a key component of his broader promise to usher in a more open process in the chamber.
Sure enough, the McConnell-led Senate held more amendment votes in January 2015 alone than former Democratic Majority Leader Harry Reid's Senate did all of last year.
In January 2015, there were 33 votes on amendments in the Senate, compared to 15 in all of 2014, according to data compiled by GovTrack. McConnell allies say it's a sign that the new majority leader is following through on his pledge to open the Senate up to more robust debate. But Democrats counter that Republican obstruction made amendments impossible in the previous session of Congress, while their more cooperative approach as the new minority party is what enables McConnell to be more inclusive.
Sen. John McCain (R-Ariz.) said he was proud of the new leadership's approach, and suggested that the effects might extend not just to the current Senate but also, eventually, to the presidency.
"Look, our whole goal now is two things: govern and elect a Republican president in 2016. They're both inextricably tied. So we've got to show the American people we can govern," McCain told The Huffington Post. "I think one of the reasons we did so well in the last election is the American people saw the Democrats can't govern. I mean, when you don't have a single amendment on a bill, you know, it's crazy. Some of these senators had to go back to their home states and opposition research showed that they had not had a single amendment or piece of legislation passed in the six years they were here. That's not going to happen to this group of freshmen."
Sen. Bernie Sanders (I-Vt.) acknowledged that he was glad to have the opportunity to offer more amendments, but argued that Reid is being unfairly criticized, since his hand was forced by GOP obstinacy.
"What happened is, time and time again, on key pieces of legislation we had the Republicans playing an unprecedented obstructionist role," Sanders said. "What they said is, you know, 'We want 87 amendments which would kill pieces of legislation.' So you've got to look beyond the surface. Reid was put in the position of saying, 'You just can't offer all kinds of amendments to delay legislation.' You understand what I'm saying? So it's not quite so simple."
Senate rules allow the majority leader the first opportunity to offer amendments to any legislation introduced in the Senate or advanced from the House of Representatives. A parliamentary tactic known as "filling the tree" allows the leader to fill up all the allotments with very technical or minor amendments. These measures block any substantial amendments from being offered by the minority party, but do not count toward the total number of amendments that receive votes.
Although "filling the tree" had been used occasionally under previous majority leaders, nobody utilized it as much as Reid, who invoked the maneuver more often than his six predecessors combined. As a result, 2014 saw a historic low of 15 votes on Senate bill amendments -- down from 210 in 2007, Reid's first year at the helm. The 2014 figure is also far lower than the second-lowest annual total during Reid's tenure, which was 63 amendments allowed in 2010.
Last year, Sen. John Barrasso (R-Wyo.) cited figures on the Senate floor indicating that between July 2013 and May 2014, less than 1.1 percent of proposed Senate amendments made it to a vote.
Sen. Jeff Sessions (R-Ala.) told HuffPost that McConnell's approach is welcome after Reid's maneuvers.
"I was one of the leading critics of the 'filling the tree' process. I think that was abused to a degree that was breathtaking by Reid. And I felt like Republicans should have been more effective in pushing back," Sessions said. "Certainly [Reid] just decimated the Senate's ability to conduct its business in the historical tradition."
"It was completely different from anything I'd seen in my 18 years in the Senate," he added. "So what Senator McConnell did was to open it up on the first big bill [the bill to approve the Keystone oil pipeline] and we ended up with more votes than they had all of last year."
As Sessions noted, the Keystone bill, which President Barack Obama eventually vetoed, was the first major legislation introduced in the new Republican-controlled Senate. Nearly all of the amendments that have received a vote in 2015 were on the Keystone bill. Democrats were able to introduce a number of measures, such as one from Sen. Al Franken (D-Minn.) requiring American steel to be used in the pipeline's construction and another from Sen. Sheldon Whitehouse (D-R.I.) affirming that climate change is real.
Sen. Robert Menendez (D-N.J.) argued that the shift is not so much a result of the change in leadership, but rather of the cooperative bipartisanship of the minority party.
"Well, the fundamental difference is we don't filibuster the way [Republicans] did. So if they had agreed to have relevant amendments, we would have had a lot of amendments," Menendez told HuffPost. "The bottom line is it's the nature of how they pursued the last Congress that created that reality. We're happy to have the opportunities, as long as we're pursuing relevant amendments. Which is what we do."
Congressional expert Norm Ornstein, a resident scholar at the American Enterprise Institute, said that while the new Senate leadership might be allowing more amendments early on, he's skeptical the change will last beyond the "honeymoon period." He pointed out that the highest number of amendments per year during Reid's tenure came in 2007, the Nevada Democrat's first year leading the Senate.
"Reid limited amendments last year at an unprecedented level because he had huge numbers of vulnerable red-state incumbents in 2014 who had been elected in the Democratic sweep of 2008, so he wanted to limit their exposure to those risky Republican-introduced votes," Ornstein said. (The second-lowest annual total of amendments allowed during Reid's tenure -- 63 amendments in 2010 -- also suggests that Reid wanted to avoid risky votes by vulnerable Democratic incumbents in a contentious election year.)
"Similarly, McConnell will have many vulnerable Republicans in 2016 who were elected in their sweep of 2010," Ornstein continued, "so I think he'll allow fewer amendments the closer we get to the 2016 election."
Indeed, that slowdown may already be occurring. According to the GovTrack data, the McConnell-led Senate has only allowed one vote on an amendment since the Keystone pipeline debate ended.
Ornstein said that although this strategy might sound sensible in theory, in practice it arguably backfired. "Reid may have gone too far in limiting amendments to protect his members," he said. "By being overprotective, he prevented his members from being able to gain a little independence, took away those opportunities for them."
Unsurprisingly, McConnell and Reid themselves have different views on the matter.
"There were more roll-call amendment votes on Keystone alone than there were amendment votes on the floor of the Senate in all of 2014," said Michael Brumas, communications director for McConnell. "And most of those Keystone votes were on Democrat amendments. That's a huge change from last year under Sen. Reid's leadership. Leader McConnell promised to return the Senate to regular order, including allowing members from both sides of the aisle to offer and have votes on amendments, and he's followed through on that commitment."
A spokesman for Reid, on the other hand, said that while amendments are important, the focus should be on passing bipartisan legislation benefiting the American public -- and in that respect, McConnell is failing.
"Amendment votes absolutely can and should be a valuable part of the legislative process," said Adam Jentleson, communications director for Reid, "but as Senator McConnell is busy demonstrating, they are not an end unto themselves, at least if helping the middle class is your goal. Motion does not equal action. The end goal of any Congress should be to pass bills into law that address the problems we face as a country and amendment votes only serve that goal if there is a critical mass of members invested in the basic premise that passing productive bills is a good thing."

"As it becomes increasingly obvious that Senator McConnell's spiel on amendments being the golden key to increasing productivity was largely a canard, hopefully we can have a more thoughtful conversation about the root causes of Washington gridlock and maybe even do something about it," Jentleson added.
BEFORE YOU GO
PHOTO GALLERY
John McCain