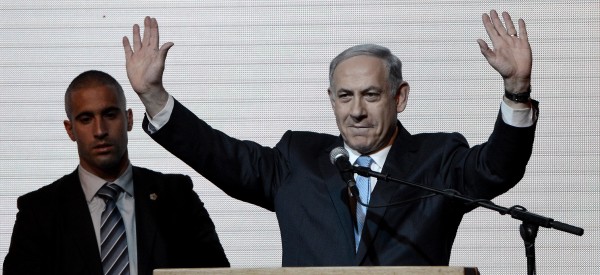 TOP STORIES
To get The Morning Email, HuffPost's daily roundup of the news, in your inbox, sign up here.
BIBI'S BACK "The Likud Party, led by Israeli Prime Minister Benjamin Netanyahu, has defied expectations and emerged as the winner in Tuesday's parliamentary elections, the Jerusalem Post reported. Isaac Herzog, Israel's opposition leader, contacted Netanyahu on Wednesday to concede." Netanyahu's win comes at a cost, as several of his last-minute campaign tactics alientated long-standing allies. See the final results. [Jade Walker, HuffPost]

PREMERA BLUE CROSS HACKED, OVER 11 MILLION RECORDS COMPROMISED "Health insurer Premera Blue Cross said on Tuesday it was a victim of a cyberattack that may have exposed medical data and financial information of 11 million customers, in the latest serious breach disclosed by a healthcare company. Premera said the attackers may have gained access to claims data, including clinical information, along with banking account numbers, Social Security numbers, birth dates and other data in an attack that began in May 2014." [Reuters]
PRESBYTERIAN CHURCH EMBRACES LGBT MARRIAGES The church revised its definition of marriage to be a union of "two people." [Carol Kuruvilla, HuffPost]
LETTER TO THE WHITE HOUSE TESTS POSITIVE FOR CYANIDE The letter was caught in the White House Mail Screening Facility. [Reuters]
THE FALL OF AARON SCHOCK "You know Aaron Schock. We all know Aaron Schock. The Republican from Illinois, who said yesterday he would resign from Congress effective March 31, is the kind of guy who has it all. Looks. Money. Success. A six-pack. Schock's veneer was so resplendent that when Daily Caller asked him what vices he could possibly have, he seemed genuinely stumped, offering the most harmless of answers: magazines." [WaPo]
SORRY, KRAFT MACARONI LOVERS The food giant has recalled over 242,000 cases of its trademark macaroni and cheese over concerns that they may contain pieces of metal. [Reuters]
FORGET COUPON CUTTING Macy's, Rite Aid, AT&T, ExxonMobil, Nationwide, Hulu and Direct Energy are teaming up for a first of its kind cross-brand loyalty program. [USA Today]
WHAT'S BREWING
WORKPLACE SUICIDE ON THE RISE The rate for men is 15 times higher than that for women. [Lindsay Holmes, HuffPost]
COULD THIS BE THE END OF VENMO? You can now send payments through Facebook messenger. [HuffPost]
GQ: THE ACCIDENT "The accident -- the first one -- occurred on the Wednesday night before Thanksgiving of my senior year in high school. It left one friend injured and one dead, and for a while afterward the whole thing seemed so surreal and impossible that all we could do -- friends, family, anyone connected but not in the accident itself -- was try to re-create the simultaneities of that evening, the first person at the scene, the shock of the couple at the nearby house from which the call was made for an ambulance, and then: who called whom, and who was where when they heard. " [GQ]
WE HAVE THE FIRST 'SPECTRE' POSTER And boy, does Daniel Craig bring the black turtleneck back into vogue. [HuffPost]
WHAT MAKES A TECH COMPANY WORTH OVER $10 BILLION? Behind the "fuzzy math that protects investors." [Bloomberg]
POSTPARTUM DEPRESSION AND DADS It isn't just moms that can be affected by debilitating newborn "baby blues." [HuffPost]
THE EATING DISORDER NO ONE IS TALKING ABOUT Meet BED, binge-eating disorder. [HuffPost]
WHAT'S WORKING
BEHIND STARBUCKS' CONVERSATIONS ABOUT RACE "On Monday, the coffee giant launched a new campaign called 'Race Together,' which aims to tackle the polarizing topic through a series of steps built to stimulate action and encourage customers to engage in conversations on race with Starbucks baristas. '[Race Together] is an opportunity to re-examine how we can create a more empathetic and inclusive society -- one conversation at a time,' said CEO Howard Schultz." [HuffPost]
ON THE BLOG
FIXING GERIATRIC CARE "Mom did all of the right things. She had the nurse at her senior living complex check her blood pressure and pulse. The nurse thought her numbers were low and told her to call her doctor for advice. So she did. And then she waited and waited and waited." [HuffPost]
BEFORE YOU GO
~ The first look at Michael Fassbender as Steve Jobs.
~ The secrets behind Mark Duplass' indie magic.
~ Forget trying to break up online.
~ If you give a cockroach a backpack...
~ That time Adam Levine tried to describe the difference between being confident, cocky and arrogant.
~ Dolce and Gabbana just keeps digging itself into a hole.
~ For those who can't stop listening, here's a track-by-track breakdown of Kendrick Lamar's new album.
~ We agree with Vulture: don't watch Jill Scott throw down this lovesick ballad if you're still getting over the winter blues.
~ Trader Joe's has recalled five brands of walnuts from its stores.
~ Stop making these brownie baking mistakes.
~ The toilet paper patent finally settles the over under roll debate.
CORRECTION: An earlier version of this newsletter misidentified the store recalling walnuts. The recall was in fact of Trader Joe's walnuts, not of Whole Foods' walnuts.
Send tips/quips/quotes/stories/photos/events/scoops to Lauren Weber at lauren.weber@huffingtonpost.com. Follow us on Twitter @LaurenWeberHP. And like what you're reading? Sign up here to get The Morning Email delivered to you.