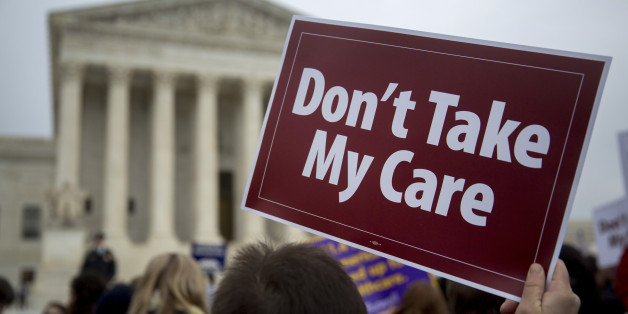 The Kaiser Family Foundation finds an uptick in favorable impressions of the ACA. Pollsters begin to explain what they think went wrong in Israel. And Americans grow more concerned about domestic terrorism. This is HuffPollster for Thursday, March 19, 2015.
VIEWS OF OBAMACARE CHANGING? - Kaiser Family Foundation on their latest monthly tracking poll: "The health care law has been politically divisive since its passage in March 2010. However, the gap between favorable and unfavorable opinions of the law has narrowed to the closest margin in over two years, with 43 percent saying they have an unfavorable view and 41 percent saying they have a favorable one. This month, the gap in opinion narrowed somewhat among Democrats, independents and Republicans. Regardless, partisan division in opinion of the law remains. Most Republicans voice an unfavorable opinion (74 percent), most Democrats voice a favorable opinion (65 percent), and independents are more divided (37 favorable, 47 unfavorable)." [KFF]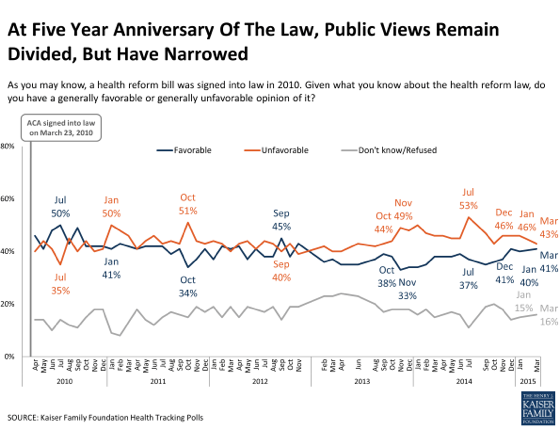 Little attention paid to Burwell - More from Kaiser: "The first week of March, the Supreme Court heard oral arguments in the King v. Burwell case...Even after these hearings, the case is not on the public's radar. Just over half (53 percent) say they have heard nothing about the case and 25 percent say they have heard only a little, while about 2 in 10 (22 percent) say they have heard at least something about the case, a share that is somewhat higher than the 14 percent who said the same in January."
WHY THE POLLS IN ISRAEL MISSED - Oren Liebermann: "Either Benjamin Netanyahu just staged the most dramatic political comeback in Israeli history and beyond, or something was very wrong with the polls before and during the election… Only four days before the election, polls showed Herzog taking a four-seat lead into the final weekend before the election. Exit polls on the night of the election showed Netanyahu had closed the gap.... Avi Degani, a pollster, professor at Tel Aviv University and president of the Geocartography Knowledge Group, saw very different results from his own polls. He never anticipated a Zionist Union victory. Instead, he says, he always saw Likud holding a lead. The mistake that others made, according to Degani, was in the methodology. 'The Internet does not represent the state of Israel and the people of Israel,' he said, referring to modern statistical methods. 'It represents panels, and the panels are biased strongly to the center -- Tel Aviv, better-educated, more participants in this kind of conversation. And people who are in the periphery and so on and have the stronger tendency to vote Likud, I think, are poorly represented.'" [CNN]
Internal polls showed a late shift - Carl Bialik: "'Likud gained votes by convincing right-wing voters they need to make a strategic vote for Likud at the expense of voting against their ideology,' Jeremy Saltan, chairman of Bayit Yehudi's English-speaking wing and an election forecaster, said in an email interview Wednesday. 'The strategic vote argument actually worked better than anything the prime minister actually said or did.' He cited on his blog unspecified, unpublished internal campaign polling that was conducted after the blackout on public polls and that showed Likud gaining at the expense of Bayit Yehudi. In the email interview, he said there were multiple internal polls, most of them conducted Sunday, two days before the election. He declined to say which campaign or campaigns they came from. [538]
And the exit polls? Renee Ghert-Zand: "Professor Camil Fuchs, a Tel Aviv University statistics expert who conducted the Channel 10 exit poll, told Army Radio that the discrepancy could be attributed to the fact that a larger number of voters refused to participate in his exit poll than in past elections. Mina Tzemach, who conducted Channel 2's exit poll together with her partner Mano Geva, insisted her statistical model was good. She also pointed to lower than usual participation in her exit poll as the possible problem. 'Usually we have 7 or 8 percent of voters who don't agree to participate, but this time is was more like 15 percent,' she told Army Radio. Tzemach said this lack of participation was greatest at polling places that were known to have many pro-Likud voters, and in particular immigrants from the former Soviet Union countries who are reluctant to take part in exit polls. This under-representation of Likud voters must have skewed the results, she said. [Times of Israel]
Exit poll methods explained - More from Ghert-Zand: "Channel 1 pollster Stella Karayov dismissed a suggestion that exit poll participants could have been untruthful about whom they had actually voted for. According to her, this kind of behavior would have affected results for not only the large parties, but also the smaller ones — whose exit poll numbers turned out to be very close to actual vote counts. Channels 1 and 2 used similar methods in their exit polls. Both asked voters who had just finished dropping their actual ballots into official ballot boxes to vote again in similar fashion for the exit poll. Channel 2 set up 60 ballot boxes at polling stations around the country to gather information from 25,000 voters this way. Channel 1 used the same number of ballot boxes, but at polling places that served a total of 30,000 voters...Instead of using ballot boxes, Channel 10 asked people to stop and fill out a survey after voting. Fuchs told Haaretz that he suspected that the lower participation rate that this approach generates (usually around 80 percent) is due to the lack of anonymity. At the same time, however, he said the methodology was preferably in terms of speed and logistical simplicity." [Times of Israel]
Missed late voting? - Adam Taylor and Peyton Craighill: "Joe Lenski, an expert on exit polls at Edison Research, is quick to caution that even at best, polls can only make predictions. 'Exit polls have margin of errors like any other survey,' he says in a phone interview. 'It just becomes magnified when races are this close.'...Lenski noted were reports that the polling companies had stopped interviewing voters about two hours before the polls closed in a bid to have numbers for news reports at the 10 p.m. close of polls. In closing their polls early, pollsters may have missed a last-minute rush from right-wing voters. Counting the votes of members of the Israeli army also was known to be a problem, Lenski added. The soldiers vote earlier than the rest of the population and follow different procedures. Errors in exit polls occur all over the world — in the 2004 U.S. presidential election, for instance, a number of polling companies, including Edison, were found to have made errors that led to inflated estimates of support for John Kerry in exit polls....'They have a really tough time in Israel,' Lenski says. 'They're not only estimating the top two candidates, they're trying make seat estimates for 10 parties.'" [WashPost]
More from U.S exit pollster Lenski - In a telephone interview with HuffPollster, Lenski explains that he found it "curious" that "you had three supposedly independent exit polls all coming up with results for every party within one seat of each other," especially given the complex threshold and rounding rules involved in translating vote percentages into Knesset seats. He recalls working on exit polling for CBS in 1988 when three U.S. television networks still conducted exit polls separately. "We had differences [with] ABC and NBC in those years, and I think that's healthy. If there were in [the U.S.] multiple exit poll results, each would be treated with the proper amount of skepticism instead of the belief that 'that's what the exit polls says, so that's what it must be.'" Lenski also speculates that, after a thorough investigation, Israeli pollsters will reach the same conclusion as in probes of past polling snafus: "It's going to come out that it's a combination of small effects and in this case they all went in the same direction. So maybe they're off by one seat because of the spike in turnout late in the day. Maybe they're off an additional seat because of the non-response difference; the non-response went from 7 percent to 15 percent and was all Likud supporters, that could be a point there." Another factor or two could tack on few more seats and explain the full error.
Quote of the day - Democratic pollster Mark Mellman, who advised Yesh Atid, when asked about Israeli polling via Twitter: "It sucks." [@MarkMellman]
AMERICANS' GREATEST WORRIES SHIFT - Justin McCarthy: "Out of 15 domestic issues, Americans' concerns about terrorism and race relations have risen most sharply over the past year. The percentage of Americans who worry 'a great deal' about the possibility of a terrorist attack (51%) climbed 12 percentage points from 2014 to 2015, while concerns about race relations (28%) surged 11 points. Americans' worries about illegal immigration also climbed over the past year, increasing six points to 39%....On the other hand, Americans' concerns about unemployment have fallen substantially over the last year. While nearly half of Americans (49%) said in 2014 that they had a great deal of worry about the job market, this figure has since dropped to 37%, a level not seen since before the most recent economic recession. Similarly, the percentage saying they worry a great deal about the economy has fallen six points, which is consistent with higher economic confidence over the past year and a slightly higher rate of growth in the national GDP in 2014 than in recent years." [Gallup]
AMERICANS WOULD RATHER VOTE A PRO GAY MARRIAGE PRESIDENT - HuffPollster: "Support for gay marriage has become the majority opinion, and voters now also say they're more likely to reject a presidential candidate opposed to gay marriage than one who backs it -- something gay marriage advocates hope marks a political tipping point for 2016. In a new HuffPost/YouGov poll, more than a third of voters say they don't care what position a candidate takes on the issue, but those who do care say they favor gay rights by an 8-point margin. Thirty-four percent of voters say they'd prefer a presidential candidate to support gay marriage, and just 26 percent say they'd prefer a candidate to oppose it. Most Democrats want a gay-marriage advocate, while Republicans voters are more likely to say they don't care or are unsure than that they'd actively favor an anti-gay marriage candidate. [HuffPost]
HUFFPOLLSTER VIA EMAIL! - You can receive this daily update every weekday morning via email! Just click here, enter your email address, and click "sign up." That's all there is to it (and you can unsubscribe anytime).
THURSDAY'S 'OUTLIERS' - Links to the best of news at the intersection of polling, politics and political data:
-Netanyahu's win wasn't that dramatic. [WashPost]
-Americans, especially Republicans, distrust Iran. [Pew]
-Lead widens for Rahm Emanuel by 15 percent in Chicago mayoral race. [NBC Chicago]
-Ninety-five percent of GOP primary voters are white. [Vox]
-Harry Enten says Liz Mair was right about Iowa. [538]
-In assessing Hillary Clinton's email controversy, Brendan Nyhan warns against making too much of a single poll. [NYT]
-Kyle Kondik plots maps to show how the politics of Ohio has evolved. [Sabato]
-Three students use interactive maps to examine changes in abortion policy by state since Roe v. Wade in 1973. [Your Body (Not) Your Choice via Flowing Data]
-Elizabeth Wilner shares data on how political TV ads disrupt auto, telecom, other TV advertisers. [Cook Political]
-The vast majority of likely 2016 voters oppose concealed carry without a permit. [HuffPost]
-Microsoft Bing executives explain their March Madness prediction model, say they'll get into the election predicting game too. [PC World]
-FiveThirtyEight interviews the new White House data scientist. [538]
BEFORE YOU GO
PHOTO GALLERY
Politicians Who Look Like Disney Characters