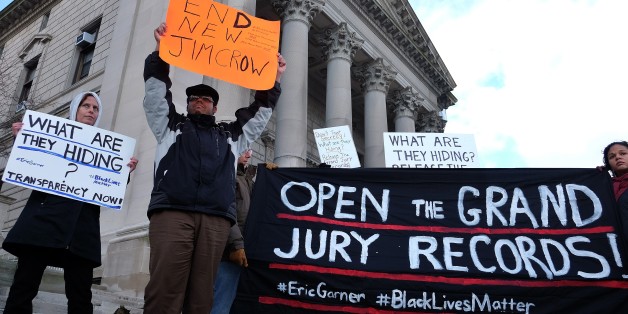 A Staten Island judge has denied a request to release records from the grand jury investigation into the death of Eric Garner, an unarmed black man who died in July after being put into a chokehold by a white police officer.
Despite the request, which was filed by a coalition of nonprofits, advocacy groups and media organizations, New York Supreme Court Justice William Garnett issued a decision Thursday stating there was no "compelling and particularized need" to release the records.
"What would they use the minutes for?" Garnett wrote in his decision. "The only answer the court has heard was the possibility of effecting legislative change. That proffered need is purely speculative and does not satisfy the requirements of law."
In December, a grand jury voted not to indict NYPD Officer Daniel Pantaleo in Garner's death, despite video evidence of Pantaleo putting the 43-year-old father of six into a prohibited chokehold. The grand jury's decision -- which came soon after a separate grand jury declined to indict then-Officer Darren Wilson for the shooting death of Michael Brown in Ferguson, Missouri -- set off months of protests across the city and the country.
It also spurred the Legal Aid Society, the New York Civil Liberties Union, the New York Post, the National Association for the Advancement of Colored People and New York City Public Advocate Letitia James to file a motion requesting the release of the grand jury minutes, or transcripts, to the public.
James, the NYCLU and the Legal Aid Society said Thursday that they will appeal Garnett's decision. The Post declined to comment about whether it also plans to appeal.
We are disappointed in this ruling but undaunted in our quest for justice. #Garner

— Letitia James (@TishJames) March 19, 2015
"We are disappointed that the court has chosen to perpetuate secrecy rather than promote transparency," said Arthur Eisenberg, legal director of NYCLU, in a statement. "In doing so, the court has reinforced the distrust many New Yorkers already feel toward the performance of the criminal justice system in this case."
"Under the law, there is a presumption in favor of grand jury secrecy," he continued. "But that presumption is not absolute. The court has the discretion to order disclosure under compelling circumstances which were certainly present here."

Donna Lieberman, NYCLU's executive director, added that "the failure to indict the officer responsible for the death of Eric Garner has left many wondering if black lives even matter."
"Sadly, today's decision will only leave many asking that same question again," she said.
Tina Luongo, attorney-in-charge of the criminal practice at the Legal Aid Society, said in an emailed statement that Garner's family and the Staten Island community "deserve to know why, despite a clear video of Officer Pantaleo putting Mr Garner in a chokehold and a medical examiner's report ruling his death a homicide by chokehold, there was no indictment on any charges."
The grand jury investigation into Garner's death was overseen by Staten Island District Attorney Daniel Donovan. His office had argued in court against the release of the records.
"We respect and will adhere to Judge Garnett's well-reasoned decision," Donovan said in a statement Thursday.
Donovan is also the Republican nominee running to replace former Rep. Michael Grimm (R-N.Y.), who stepped down in January after pleading guilty to federal charges of tax fraud. Before he left Congress, Grimm had represented New York's 11th District, which includes all of Staten Island and parts of Brooklyn.
Cynthia Davis, who has worked closely with the Garner family as president of the Staten Island chapter of the National Action Network, said she wasn't surprised by the judge's decision.
"I just think it's really important that the federal government step in," she said.
The U.S. Department of Justice is investigating Garner's death, but it's not clear whether it will choose to press federal charges against Pantaleo.