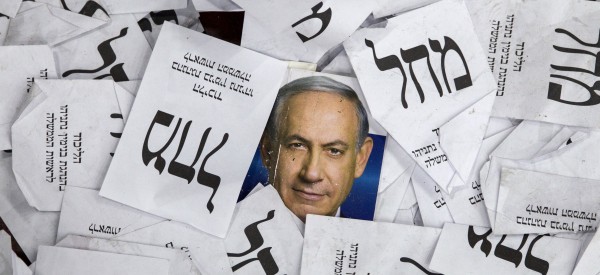 TOP STORIES
To get The Morning Email, HuffPost's daily roundup of the news, in your inbox, sign up here.
THE COST OF BIBI'S REELECTION "Israeli Prime Minister Benjamin Netanyahu's strong showing in national elections this week has come with a price: He has managed to antagonize friends and foes alike with hard-line rhetoric on the campaign trail. While the tough talk gave Netanyahu a last-minute boost in the polls, the Israeli leader could now face a difficult task convincing an already skeptical world that he is serious about reaching peace with his Arab neighbors -- particularly if, as expected, he forms a new government comprised of religious and nationalistic parties." So what exactly is the cost of Netanyahu's victory? And what does it mean for the U.S.'s Middle Eastern policy? [AP]

TUNISIA VOWS REVENGE FOR TERRORIST ATTACK THAT KILLED 19 "Tunisia's president vowed Thursday to expand the country's 'merciless war against terrorism' after gunmen killed 17 foreign tourists and two Tunisians in a daylight attack at Tunisia's most renowned museum, an assault that threatened the stability of the lone country seen as an Arab Spring success." One of the suspects was known to Tunisia intelligence. [WaPo]
OBAMA REGRETS NOT CLOSING GITMO ON DAY ONE President Obama said if given the chance to do his presidency over, he'd close the U.S. detention center at Guantanamo Bay on his first day in office. [Jennifer Bendery, HuffPost]
DON'T WORRY, THE DOLLAR BOUNCED BACK After the Federal Reserve cautiously adjusted its stance on interest-rates yesterday. [WSJ]
TARGET TO PONY UP $10 MILLION FOR DATA BREACH The money will go to those whose data was hacked in the massive breach in 2013. [Reuters]
BLACK UVA STUDENT BLOODIED BY LIQUOR POLICE IN ARREST "Virginia Gov. Terry McAuliffe on Wednesday asked state police to investigate the arrest of a black University of Virginia undergraduate by state liquor agents that left the student bloodied and needing 10 stitches in his head." [Tyler Kingdale, HuffPost]
BAD NEWS FOR UBER IN EUROPE A German court banned drivers without a cab license from working for Uber, while Parisian authorities raided Uber offices to investigate whether the company was improperly utilizing rider data. [Reuters]
GLENN BECK: I'M NO LONGER A REPUBLICAN "I've made my decision -- I'm out," Glenn Beck said. "I'm out of the Republican Party. I am not a Republican. I will not give a dime to the Republican Party. I'm out. I highly recommend -- run from the Republican Party. They are not good." [Catherine Taibi, HuffPost]
WHAT'S BREWING
THE VILLAGE WHERE PEOPLE KEEP FALLING ASLEEP "For the last two years the residents of Kalachi have been falling into unexplained bouts of sleep - sometimes for weeks at a time." [The Guardian]
A REAL LIFE PENSIEVE A recent study shows promise for the survival of memories outside of the brain. [The Verge]
'LIP SYNC BATTLE' IS NOW A SHOW The best bit on Jimmy Fallon -- lip sync battles between stars -- now has its own show hosted by LL Cool J. Judging by the trailer, we're in for some crazy appearances by John Krasinski. [HuffPost]
'PIRACY KILLED THE ALBUM RELEASE DATE' Behind the rise of surprise albums. [Vulture]
AMERICA'S FAVORITE CEREAL IS…. Cheerios, by a long shot. [WaPo]
YOUR MARCH MADNESS POOL IS PROBABLY ILLEGAL Whoops. [HuffPost]
NEW RUNNER STRUGGLES So.winded.can't.breathe. [HuffPost]
WHAT'S WORKING
WORKING FROM HOME IS HERE TO STAY Even some Yahoo employees are doing it. [HuffPost]
ON THE BLOG
WHEN A BROTHER DIES "I took him for granted. He was my brother. He had always been there, at a distance, but there nonetheless. A large man who did what he wanted, he had seemed as permanent as a mountain. I assumed we would both live to a very old age." [HuffPost]
BEFORE YOU GO
~ About those Katie Holmes and Jamie Foxx dating rumors...
~ How to watch the latest solar eclipse.
~ Liza Minnelli has checked into rehab for substance abuse.
~ Obama unveiled his March Madness bracket.
~ Why is Lego giving girls "beauty tips?"
~ Mapping the world's longest nonstop flights.
~ In incredibly morbid news, you can set your Apple watch to show a countdown til your death.
~ Your brain on drugs.
~ Meet the "Humans of Syria."

~ Is the #TwizzlerChallenge the next bucket challenge?
~ Two new "Game of Thrones" clips. Just 24 days people, 24 days.
~ Enjoy 50% off Domino's for March Madness -- have at that garlic crust.
~ Hilary Duff dyed her hair blue, letting the rain fall down...
~ And the food texture you didn't know existed.
Send tips/quips/quotes/stories/photos/events/scoops to Lauren Weber at lauren.weber@huffingtonpost.com. Follow us on Twitter @LaurenWeberHP. And like what you're reading? Sign up here to get The Morning Email delivered to you.