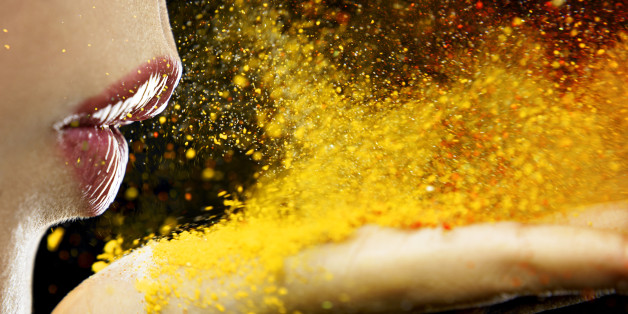 When an anti-abortion website received a glitter bomb in the mail from pro-choice activists, staff didn't break out the vacuum cleaner. Instead, LifeNews reportedly asked its supporters for money.
Jezebel reports a group called Glitter Bombs For Choice mailed envelopes full of glitter to the offices of anti-abortion groups including LifeNews, a site known for articles like "How Would Jesus Handle a Conversation With Someone About Abortion?" and "Death Panels: New 29-Point Checklist Determines if Elderly Person May Die in 30 Days."
According to Texas Right To Life, glitter bombs were also sent to Students for Life of America and the Pro-Life Action League. The group And Then There Were None, which according to Facebook provides support to workers leaving abortion clinics, posted a photo of the one they received:
Jezebel reports that LifeNews turned the protest into a fundraising appeal. They obtained a copy of the email sent to LifeNews supporters with the subject line, "Our office was bombed and we need your help!"
Over the last few weeks, abortion activists have sent several glitter bomb letters to LifeNews, some with threatening messages. When our staff open the letters, glitter poured inside goes everywhere and makes a huge mess.

While these glitter bombs are insulting and intimidating rather than life-threatening -- they contain an inspiring reminder: the pro-abortion side knows LifeNews is effective!
Life News ends the message by soliciting donations from $50 to $500, which should at least cover a new Dustbuster.
The term glitter bombing first referred to throwing glitter on politicians who oppose LGBTQ rights, like Rick Santorum and Mitt Romney. That changed when Ship Your Enemies Glitter burst onto the Internet's collective consciousness in January. The site, which turned out to be a hoax, promised to send anyone an envelope of glitter and create a colossal mess.
In the case of Glitter Bombs For Choice, that mess has also prompted one very sparkly federal investigation. Salon reports that an envelope sent to Rep. Jeff Fortenberry (R-Nebraska) will be investigated by the FBI, the Postal Service, and local police.
"Congrats!" the letter read, according to Salon. "You've earned this for trying to deny women their right to choice. Mind your own uterus."
BEFORE YOU GO
PHOTO GALLERY
How To Green Your Birth Control: IUDs, Vegan Condoms, The Pill and Five Other Pregnancy Prevention Choices